Teacher says selection for entrepreneur's reality TV concept would fulfil dream.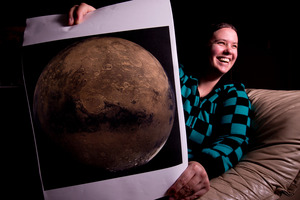 "Mum, Dad, I'm moving to Mars."
It's an awkward conversation most of us can't ever conceive having - but one that Aucklander Nicola Fahey one day hopes to.
She's one of more than 200,000 people from 140 countries, including 10 Kiwis - among them former Shortland Street star Karl Burnett - who have applied to settle on the red planet in a decade's time.
The Mars One plan, which has drawn doubt from space agencies including Nasa, makes for the most ambitious reality television concept ever, with successful applicants for a human colony being broadcast around the world.
Dutch entrepreneur Bas Lansdorp wants to build a permanent base on Mars, with a mission by 2022 if he can drum up the $6 billion needed.
A small group would eventually blast off on a one-way trip to live 225 million km from their home planet.
Ms Fahey, a 30-year-old preschool teacher, admitted the concept sounded "somewhat surreal" when she first heard about it.
"Then I went online and saw it, read about the feasibility, and thought, oh my God."
She said getting picked would fulfil a lifelong dream.
"I wanted to be an astronaut when I was 7 years old, and I was always laughed at and always told it'll never happen ... well now the joke might be on them."
Friends had reacted with disbelief at her bid.
"They are like, 'I think you're crazy'. Well, people thought they were crazy when they left Britain and went to live in America."
She was "realistic" about her chances of getting selected - around one in four came from the US, and many were doctors and aerospace engineers - but still thought herself a strong candidate.
"I'm pretty tough, and when it comes to getting me down psychologically, it takes a heck of a lot to make me crack."
Also a qualified horticulturist, she could "grow anything - so you're never going to starve".
If the time did come where she did have to leave Earth behind, she reckoned her parents would be shocked.
"I think they'd have a panic, but they wouldn't scream out 'No!"'
Another young Kiwi applicant, who asked only to be named as Patrick, saw much appeal in the idea.
"Just the possibility of being able to leave Earth and live independently on another world sounds like a whole new level of freedom to me that has yet to be fully grasped."
Sci-fi fan Karl Burnett was more comical in his self-filmed promotional video to organisers, joking that he wanted to be the first human to go to the toilet on another planet and be installed as an evil dictator.
There had so far been no unmanned missions to Mars by Nasa, although the agency wanted to send astronauts there within two decades.
Is there life on Mars?
Next to Earth, Mars might be the most hospitable planet for humans in the solar system, yet its harsh, ambient surface conditions would prove deadly to life as we know it.
With temperatures comparable to Antarctica, greatly-reduced air pressure, reduced gravity, no water, an atmosphere comprised 95 per cent of carbon dioxide and almost zero oxygen, humans, plants or animals could not eke out an unassisted existence on the planet.
But it hasn't been ruled out that humans could live in artificial environments seen only in such sci-fi movies as Total Recall, and among those calling for a base is Buzz Aldrin, the second person to walk on the Moon.