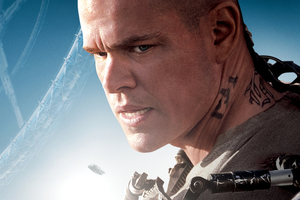 Elysium (R16)
Downtown Cinemas, Palmerston North
Directed by Neil Blomkamp
110 minutes
Reviewed by Rob Mildon
Elysium is director Neil Blomkamp's followup to his 2009 sci-fi apartheid allegory District 9. Featuring his familiar empathy with the downtrodden classes and his distinctive visual style, Elysium manages to be $70 million more expensive than District 9 yet somehow not as good.
That's not to say it's bad - far from it. Matt Damon turns in good work as desperate factory worker Max and Wagner Moura's energetic hacker Spider is a real treat.
The effects are wondrous, combining astoundingly realistic humanoid robots with breathtaking orbital vistas.
These are Elysium's key strengths, yet it seems determined not to play to them. What, we're on a massive space station orbiting the Earth? No, by all means, let's spend our time in darkened corridors.
Blomkamp is great at gunplay, yet feels the need for dull hand-to-hand combat that is wracked with the shakycam I can't quite believe is still being used in movies.
The film's got something to say - that much is obvious from its contrast of overcrowded, brown, Spanish-speaking Los Angeles with a space habitat - the titular Elysium - populated by white bourgeoisie manicured to within an inch of their lives. But here Blomkamp goes too far, sacrificing convincing world building for the sake of a dropped anvil.
Elysium comes across as a banal hell of pastel cardigans and white houses where there's nothing to do but drink champagne and coo at each other. The MacGuffin driving the whole plot, a device that can heal any illness or injury, is not shared with the teeming masses, despite the existence of a huge fleet of shuttles stuffed with the things, because apparently Blomkamp wants to portray the orbital dwellers as uncaring meanies divorced from any sort of moral compass.
There's nothing wrong with this sentiment but, for goodness' sake, make it plausible. The antagonists, played by Jodie Foster and William Fichtner, are so absurdly cartoonish in their villainy that it's almost laughable. It falls to Sharlto Copley's unhinged mercenary Kruger to bring a bit of believability to the bad guys, if not a lot of nuance.
If you can get past the overt statements and stylistic irritations, Elysium is a crackingly paced sci-fi actioner that's better than many of its compatriots. Next time maybe Blomkamp should work with a much smaller budget; it seems to bring out the best in him.
For more articles from this region, go to Wanganui Chronicle