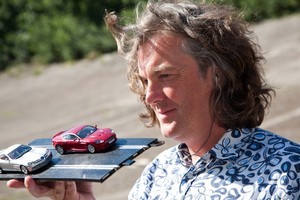 There are a few reinventions afoot this week in the world of information TV, with the Documentary Channel becoming BBC Knowledge and TVNZ's digital and freeview channel's 6 and 7 merging into one. The Documentary Channel was set up in 2006 by Richard Driver and was recently sold to the Beeb with the new-look channel - at first glance anyway - looking a little like a British version of Discovery Channel.
High-profile shows starting in the next few weeks include Ray Mears' Bushcraft (March 5, 7.30pm), like a more informative Man v Wild; Amazon With Bruce Parry (March 13, 8.30pm), an extreme travel show with adventurer Parry journeying from the source of the Amazon to the Atlantic coast; and starting on Wednesday is James May's Toy Stories (7.30pm), a series which screened on free-to-air TV last year.
And mobilise your HD cable for Planet Earth, which uses high definition film to explore the highest mountains of the world in Nepal and down a volcano.
It seems Documentary's popular mix of educational and quirky documentaries - which included everything from the excellent Classic Albums series to off-beat docos like Winnebago Man - will not be lost since the old channel's programme library has been taken over by the BBC.
Meanwhile, on Tuesday TVNZ's 6 and 7 merge to form one space for the network's public service commitments.
TVNZ 7 has been screening special interest shows such as The Ad Show and Media 7 since early 2008, while TVNZ 6, which started six months earlier, has specialised in children's programming and delving into the TVNZ archive. The merge will not only bring more channels to TVNZ 7 (moving to Sky channel 77) but will free up 6 for a new youth channel U (Sky channel 16), which will be launched on March 13. The new 7 will roll out shows such as Hindsight (Tuesday, 9.30pm) presented by Damian Christie, which takes issues and looks at how they've been told through history.
LOWDOWN
When: March 1
Where: BBC Knowledge (Sky Channel 74)
What: Get smart
-TimeOut