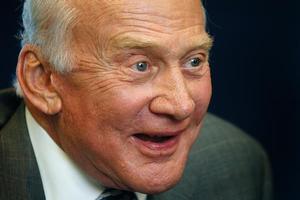 Buzz Aldrin's not a hard man to get talking.
With a formidable marketing machine behind him, he has done a fair bit recently around the 40th anniversary of the Moon landing.
So it's lucky he churns through words like Apollo 11 chewed through fuel (one gallon for every five inches on lift-off, he reckons) when reporters' time with the second man on the Moon is precious.
It's also fortunate he's a multitasker, working his Blackberry (with far more memory than computers on his spacecraft) while about to launch into a potted version of the highs and lows of his 80 action-packed years.
Among the highs have been his scientific contribution to winning the space race, being among a dozen men to have walked on the Moon. His mark on exploration - his boot prints - will remain on the Moon for 500,000 years.
The lows include his battle with alcohol and depression which he touches on during an interview with the Weekend Herald.
Somewhere along that scale is his upcoming appearance in Dancing with the Stars in the United States alongside other contestants such as Pamela Anderson and Shannen Doherty.
The competitive West Pointer and Korean combat pilot has brought his 27-year-old dancing partner Ashly Costa to Auckland to practise daily during his three-day visit for the Planet 2010 telecoms conference. His wife, Lois, is also with him.
"We're filming all of my miscues and mistakes and my slow memory - my God is it different."
Aldrin remains a product of his Massachusetts Institute of Technology science background.
"We have to try a lot of different steps together with words and music.
"I don't understand that. I need to draw a plan, an orbital pathway of our progress over the dance floor.
"People don't think that way but I do."
On the subject of what's left for him to achieve, he first tracks back to how the planets aligned for his journey to the Moon in 1969.
"All I've been able to do has made me what I am right now - I don't know how other people could be so fortunate to have things evolve and opportunities come along at the same time."
He was writing a doctoral thesis on manned space rendezvous techniques at the time Nasa was figuring out how to get to the Moon using those techniques.
"That is a miraculous happening that opened the doors for me."
Structure in Aldrin's life ended soon after returning from the Moon, leading to depression, a fight with alcoholism for much of the 1970s and two failed marriages.
"I thought I just had depression and thought I could fix that but no, it was a bit more involved than that," Aldrin said. "That's why I remained sober. It's a long and very rewarding achieving of what we call the promises of a better life."
He said that has helped him think laterally in his push for space tourism and missions to Mars.
PLANET BUZZ
* Planet 2010 telecoms conference at SkyCity is free to the public today, Saturday.
* Buzz Aldrin speaks from 9am.
BUZZ BITES
* Shot down two MiG fighters during the Korean War.
* The second man on the moon - 20 minutes after Neil Armstrong - and one of just 12 men to set foot there.
* Helped devise rendezvous techniques used throughout the space programme.
* His mother Marion's maiden name was Moon.
* Legally changed his name from Edwin Aldrin to Buzz Aldrin - an affectionate family name.
* Lobbied Nixon (unsuccessfully) for his father's appointment as ambassador to Sweden.
* Took advantage of the required pause before stepping off the lunar module to relieve himself into the urine bag of his spacesuit.
* Had a small part in the John Travolta film Boy in the Plastic Bubble.
* Worked briefly as a Cadillac salesman but failed to sell one car.
* Once held in a police cell after drunkenly breaking down a door.
* Quit drinking in October 1978.
* Has had roles on The Simpsons, Sesame Street, 30 Rock and now, Dancing with the Stars.
* Photos carrying his autograph start at around $400.