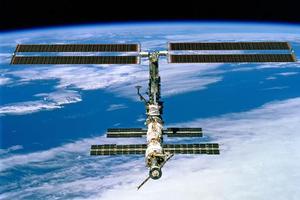 Forty years ago, American astronaut Neil Armstrong took mankind's first steps on the moon. He and his colleagues Buzz Aldrin and Michael Collins blasted off from Earth in a rocket related to WWII technology controlled by a primitive computer. While the "Space Age" has not hit such dramatic heights since then, advances mean more giant leaps are in the offing.
International Space Station
This weekend the International Space Station, now the size of a four-storey house speeding at 27,743km/h, took on board the crew of the shuttle Endeavour: 12 men, one woman - seven Americans, two Russians, two Canadians, one Japanese and a Belgian. During a two-man space-walk, the crew added a four-tonne porch - an outdoor shelf for experiments - to the station. It is due to be completed next year at a cost of $253 billion.
As well as a base for high scientific experimentation and the symbolic value of a permanent base in space for man, the space station has hosted paying guests, with US citizen Dennis Tito in 2001 becoming the first.
The space shuttle
America's flagship programme, and the human race's first and only viable multiple-use entry space vehicle to date, is due for retirement next year after a service record spanning three decades, with the US then becoming again reliant on multi-stage rockets for transport. However, a next-generation replacement is being planned, while China has also reportedly created designs for its own systems. Whether they are completed will depend on funding and the scope and needs of future space exploration.
The moon and Mars
Next month, a panel of specialists will advise President Barack Obama on whether the US should embark on a 21st-century space programme that could see Americans return to the moon, and eventually venture further to near-Earth asteroids and Mars.
The President's decision could instigate a space race, this time with China, that might be fiercer than anything seen in the 1960s' rivalry with Russia.
The Chinese are not participating in the International Space Station, but Beijing is prepared to go it alone, declaring that it intends landing on the moon by 2020. In September, with its manned spacecraft Shenzhou 7, China became the third power to walk in space.
Russia has also committed to a major upgrade of its space capability, the first of the post-Soviet era. Russian engineers have spent 105 days isolated in a mock spacecraft to test the stresses travellers may face on the 227 million kilometre journey to Mars.
Buzz Aldrin, the Apollo 11 veteran, and the second man to set foot on the moon, said last week that America could aid its international partners in exploring the moon and so free up its own spaceflight resources to develop systems for "even more ambitious goals".
Once there is an international base on the moon and in-space refuelling technology, he said, the US should concentrate on sending astronauts into deep space to visit the asteroid Apophis when it passes near Earth in 2021.
After that, there is the possibility of a temporarily manned base on the Mars moon Phobos. "By that time, we'd be ready to put people in a gradual permanence on Mars by 2031," Mr Aldrin added.
Next year, China's first Mars probe will go into orbit around the planet after a 10-month, 380 million km journey. There are also the lunar ambitions of India and Japan.
Commercial flights
Despite the loss of the Concorde, the only supersonic passenger service, a number of companies are looking beyond the skies to offer more out-of-this world flights.
Sir Richard Branson's Virgin Galactic and XCOR Aerospace are vying with each other to make the first suborbital flights. Sir Richard has said that Virgin Galactic spaceships will be completed by December 2009 and are "on track to be carbon-neutral", with paying passengers by 2011.
Suborbital flights are not true space flights - skimming the edge of the Earth's atmosphere - but the service could bring the dream closer for thousands of people.
The spinoffs
While we're not all zipping round in jetpacks and eating pills that taste like roast beef and baked potato, an advance in space travel almost always brings an advance on Earth.
Pacemakers were derived from telemetry systems used in early spacecraft. Portable medical equipment has its roots in Nasa's needs for such equipment in space. In-house smoke detectors are derived from equipment on board Nasa's Skylab project of the 1970s. Various common, man-made fabrics were first made for use in space missions.
Colin Pillinger, professor of planetary sciences at the Open University, said: "Every space mission has spinoffs which are unforeseeable. The Wellcome Trust funded Beagle 2 Mars explorer on the understanding that the team would look at ways the technology could be used for medicine. We have developed an instrument that can diagnose TB in a day. Our instrument, which is going to be tested in Malawi, could save hundreds of thousands, if not millions, of lives."
Back on Earth
Yet are large-scale ventures into space justified when there are problems - possibly terminal ones - with Planet Earth? Is an enthusiasm for manned exploration compatible with tackling the environment, poverty, and diseases such as cancer and Aids? Or is it only when we reach out beyond our own world that we can maybe make the blue planet a truly green one?
After all, in 2016, the US energy firm Solaren plans to send a 1km-wide panel into orbit to beam back energy.
John Sauven, the executive director of Greenpeace UK, is sceptical: "Our argument is that Earth hasn't been properly explored and understood yet. I'm not against space exploration, but it mustn't be a trophy-collecting exercise for countries."
However, James Lovelock, inventor of the Gaia theory, said: "I strongly support space travel. The whole notion of Gaia came out of space travel. It seems to me any environmentalist who opposes space travel has no imagination whatever. That gorgeous, inspirational image of the globe that we are now so familiar with came out of space travel. That image has perhaps been of the greatest value to the environmental movement.
"There are the unmanned spacecraft, which are relatively inexpensive, that I certainly think should continue. The more we know about Mars, for example, the better we can understand our own planet.
"The second sort, the more personally adventurous sort of travel, offers great inspiration to humans. And, were it not for space travel we'd have no mobile phones, no internet, no weather forecasts of the sort we have now and so on. There's a lot of puritanical silliness about it."
Dr Steve Howard, the chief executive of the Climate Group, said: "I don't think space travel is an 'either/or'. Sometimes we feel that we will have to stop other things if we go to the moon or Mars, but man has always been an explorer."
A WASTE OF MONEY OR A GOOD INVESTMENT?
The Obama Administration puts the cost of Project Constellation - the plan to put people back on the moon - at US$187 billion ($290 billion) .
That sum could, instead:
* Wipe out North Africa's foreign debt of $177 billion, with $113 billion left over.
* Cover the costs of swine flu absenteeism for 10 weeks. Experts put the toll of this at $3.8 billion a day.
* Pay for the Olympic 2012 construction costs of $23 billion 12 times over.
But Professor Stephen Hawking says: "We need to renew our commitment to human spaceflight. Robotic missions are cheaper, but if one is considering the future of humanity, we have to visit other worlds ourselves."
SPACE DATES
2009
Sir Richard Branson has said that his Virgin Galactic spaceships will be completed and ready for testing by December and are "on track to be carbon-neutral".
2010
The Yinghuo-1, China's first Mars probe, will be launched by a Russian rocket and will later go into orbit around the planet to study climate change.
2011
The $253 billion International Space Station is due for completion. It is currently being assembled in low-Earth orbit.
2020
America hopes to land on the moon again - 50 years after Apollo 11. But it is in competition with China, which has vowed to do the same.
- INDEPENDENT