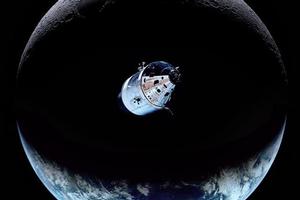 When we think of the United States National Aeronautics and Space Administration, or Nasa, it's mostly in connection with exploration of Earth's near neighbours - the Moon and Mars. Any observations of our planet, we might imagine, are made in passing.
But nothing could be further from the truth. In 50 years of space flight, thousands of satellites have been put into orbit with the express purpose of watching what's happening on Earth.
Twenty years ago - Nasa marked the anniversary last month with a three-day symposium in Washington, DC - the study by US scientists of Earth as an integrated whole was formalised. Congress even passed a law, the Global Change Research Act, to show its seriousness.
Matters have become even more serious since, with human-caused climate change now an accepted scientific fact. Marshall Shepherd, a meteorologist at the University of Georgia who took part in the 20th anniversary symposium, says these are exciting - scary, even - times to be studying the Earth system.
"I think we're on the cusp of another transformational moment as people really begin to understand what fingerprints our human activities are leaving on the planet. I think we're entering another era of landmark policy change."
A similar moment occurred in the late 1960s, when astronauts first saw the Earth rise from space, Shepherd says.
"I think people really started to gain an appreciation of how delicate our planet was and, in the United States, for example, in the early 1970s we began to see quite a bit of legislation such as the Clean Air Act and Clean Water Act that galvanised the environmental movement."
American Francis Bretherton was a key figure in establishing the new discipline of Earth system science in the 1980s. He led a Nasa committee that showed for the first time the interaction between components of the Earth system.
Not that Bretherton was the originator of the idea of the Earth as a geophysical system. A century before, Swedish scientist Svante August Arrhenius concluded that emissions from human activities might warm the globe.
Various other scholars of the time, and over the course of the next century, speculated about the causes of ice ages, and began to understand the role of carbon dioxide as a climate regulator.
The invention of sensitive instruments for measuring electromagnetic radiation and trace amounts of chemicals was important in the development of earth world goes by system science. In the 1880s, American Samuel Langley, after whom Nasa's Langley Research Centre was named, came up with the bolometer, capable of measuring tiny temperature changes.
Another instrument inventor was British scientist James Lovelock, whose electron capture detector could measure chemicals in amounts as minute as one part in 10 million billion. It was the ECD that first detected widespread ozone-destroying chlorofluorocarbons in the atmosphere.
Lovelock also had a Nasa connection: it was there, while working at the Jet Propulsion Laboratory in 1965, that he put forward his theory of the Earth as being like a "living organism able to regulate its temperature and chemistry".
Writer William Golding, of Lord of the Flies fame, was Lovelock's neighbour in England and called this idea Gaia, after the Greek goddess of the Earth, a name Lovelock was happy to go along with.
Shepherd, whose meteorology career began at Nasa in the early 1990s, says the Gaia hypothesis is a foundation of Earth system science. "The Bretherton committee spearheaded the movement within Nasa but certainly many of these concepts have their origins within Gaia and other early thinking."
Earth system science remains a major Nasa mission, Shepherd says, through the funding of research by scientists, and putting satellites - with their arrays of radars, lasers, microwave radiometers and other instruments - into space.
"The real value of the space-based perspective is that you can do things like measure the temperatures of the oceans or the amount of black carbon aerosol pollution in the atmosphere or take a CAT scan of towering thunderstorms... and this helps us advance science.
"It moves us beyond just diagnosing what's going on... to understanding how Earth works and maybe giving us better predictive capabilities."
Lovelock, who turns 90 this month, believes climate change is irreversible and by 2100 more than three-quarters of the world's population will have perished as deserts spread and sea levels rise.
However, Shepherd says the election of President Barack Obama, who has committed more money to science and is pushing environment-friendly policies, has provided an injection of optimism.
"The stance being taken in our country now ... is really getting us back on solid ground both in terms of the scientific community and the needs of the planet as a whole." Anthony Doesburg is an Auckland technology journalist