As the world softball championships at North Harbour approach, Chris Rattue looks at how our transtasman rivals went from chumps to champs and got the jump on the Black Sox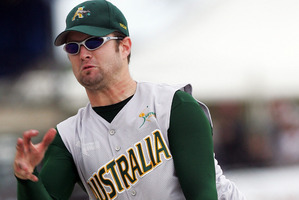 One man can make an enormous difference in sport and here is an example. When surprise world champions Australia defend their title at North Harbour next month, all eyes will be on their brilliant Canberra pitching duo of Adam Folkard and Andrew Kirkpatrick.
But scan the diamond for the figure of Bob Harrow, a classic walrus of a softball coach. He is the power that put Aussie on this throne.
Harrow, a recently retired general store owner, masterminded Australia's softball rise with old-style action-stations attitudes that include taking a bat to anything that smells like a slack attitude or bureaucracy.
Australian softball rose tentatively in the west, but set itself on a path to becoming world champions in the east where Harrow led the magic.
As recently as the late 1990s, predictions Australia would ever win a world title might have brought howls of laughter, despite the growing success of their junior boys team.
But while the financial rewards have remained the same - less than zero - attitudes have been propelled into another world.
Australia - men's softball world champions. The phrase still sounds odd to anyone who followed the sport 20 or 30 years ago. How on earth did it happen?
West Australia was the game's original stronghold, and Kiwi migrants dominated. But the game took on a new professional attitude in Canberra, inspiring a fairytale rise that led to the Steelers winning the 2009 world final over New Zealand in Canada.
Use the word professionalism lightly when it comes to Australian softball. The men's game is underfunded and the players will pay more than $3000 each for the privilege of defending their crown in New Zealand. But the cut-price champs have riches in attitude.
Harrow, the 68-year-old Canadian who took over as coach in 2001, holds memories of his early softball days in Canberra, the place he made home in the mid-1980s after coaching a Canadian women's team in Australia.
"We just didn't have classy men ball players here," he says.
"We had lots of people that had sort of played cricket - my first third baseman was one of the better ones and he would catch the ball bare-handed or with glove, whichever came first.
"We had guys who would stand at the plate like cricketers, pounding the bat on the ground. A couple would swing at a bad pitch that bounced before they would swing at a strike.
"There were a lot of funny incidents. One coach would turn his back and almost show his bare arse as a signal for his players. A couple of baseballers came over but they couldn't hit the rise ball.
"It was fairly ramshackle, low key. There was no good pitching, which meant there were no good hitters. We started bringing in pitchers, particularly from Canada, and tried to make sure every team in the league had a really good pitcher.
"The first year I brought in one pitcher who struck out 20 batters in a game and lost 1-0 because our catcher couldn't catch the ball."
Another daunting task lay ahead for Harrow, who initially coached coaches and was more involved on the women's side.
He says "a woman who did the hiring and firing" approached him in 2000 and said "Bobby, you will now coach the men's team".
So Harrow broke his own rule of never coaching a team that included any of his sons.
He had remarkable initial success in 2001, when at Hataitai Park in Wellington, having lost all 35 previous contests over 13 years with New Zealand, the Australians triumphed 7-1 in the last of a four-match series, after losing the third game by a record 13-0.
Black Sox coach Don Tricker observed the loss was the wake-up call his team needed, whereas history shows a sleeping giant was being awakened. Australian men's softball, whose junior boys were steaming towards four straight world titles, was finally in business.
The tour included a pivotal moment, when Harrow sent home a player for ignoring the team tactic of standing at the front of the batting box to negate New Zealand's drop pitches. Discipline and dedication were at the heart of the new era.
"Next time I looked for him, he was out chatting to some girl in right field - so that was the end of him," says Harrow.
Chet Gray, the ex-American baseballer who runs Softball Australia, recalls his first sight of the Australian men playing New Zealand in the bad old days.
He noted an Aussie still in playing uniform drinking at the bar, and a couple of others smoking cigarettes.
Gray says: "I happened to bump into a guy named Bob Harrow who was keen to be involved, and his ideas and my ideas were very similar. I couldn't understand how we could win the under-19s and yet the men were ranked about 12 or 15 in the world.
"The Kiwis had pride in their uniform. It was like chalk and cheese. It was up to our players to change the culture and we've had a good group for the last 10 years who are focused and know what they want, and go after it.
"You need to surround yourself with good people and things start to happen, You need players who want something really badly. You need to empower your athletes, to have that vision and dream.
"We knew we had the talent, we just needed the direction. The Kiwis were No 1 in the world at the time, and I watched the way they warmed up. They were professional, they were motivated. The Australian team I watched that night were a long way from that."
As Harrow found out. The coach, who prided himself on conducting thorough and vigorous warmups, realised a couple of players would routinely disappear into the toilets and emerge when the preparations had concluded. They survived the 2001 New Zealand tour, but no longer than that.
By 2004, Australia were improved enough to win the world series bronze medal in Christchurch, as the good junior players and new levels of commitment helped start a dynasty.
And yet, the more things changed, the more they have stayed the same. Newspaper or television coverage is virtually unknown, apart from the odd camera crew who spotlight the star pitchers.
Women's softball has been well supported by the federal system but that money is in doubt because the combo of women's softball and men's baseball has lost Olympic status, and a new direction has been implemented for Australian sports funding.
Former Black Sox infielder Kere Johanson, Harrow's assistant coach, is a full-time softball employee because he is also the national women's coach.
But Harrow almost chokes when the Herald asks about his own softball wages.
"I don't get paid and I've never got paid - I had a general store with 20 employees and a restaurant called Field of Dreams," he says.
"I'm the ACT coaching director and don't get paid for that either, apart from expenses. I get fed and watered.
"I don't begrudge Kere, and man oh man, he is under the hammer.
"I would never do the women's job. Too much red tape. I'm from the old school."