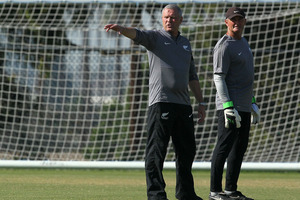 All Whites coach Ricki Herbert admits that today's match at the Azteca Stadium could be seen as mission impossible, but that is always the case for the New Zealand side.
With a ticket to the World Cup in Brazil on the line, the Mexican football machine has spared nothing to get the best possible preparation for this game. It's a nationwide effort.
In contrast New Zealand's build-up has been filled with hurdles, even before the daunting prospect of facing El Tri in the cauldron of the Azteca.
"You could say it's mission impossible," said Herbert. "But to some degree it is often mission impossible for New Zealand sides. We are usually not the favourites. It's going to be a very tough [afternoon], with the conditions and the crowd but there won't be any excuses. We're ready. We hope that when Mexico comes off the field at the end of 90 minutes [today] they are thinking that this has been one hell of a challenge."
More All Whites v Mexico
All Whites check in at turf of legends
Smith to captain All Whites
Sam Malcolmson: Mexico City fans a force to be feared
All Whites: Three key questions
Since landing in Mexico, Herbert has attempted to put the pressure back on the Mexicans, constantly emphasising in interviews that "playoffs are another matter" and wondering how Mexico's young squad will cope with the pressure and expectation.
It has worked to a degree, with the local television stations constantly pointing out that the All Whites have "much more playoff experience" and that will be an advantage.
Mexico coach - It's only New Zealand
If somehow the result doesn't go Mexico's way in the Azteca Stadium today, Mexican coach Miguel Herrera will be feeling the heat.
He was supremely confident yesterday in predicting a 3-0 win, but that has continued a pattern since he was given the job just under one month ago.
During the extensive build up to the game - coverage has been wall to wall - several Mexican television stations were repeatedly rolling excerpts from his first interview as national coach.
It was just after Mexico had lost to Costa Rica in their final hexagonal game, with their hopes only salvaged by the USA who beat Panama at the death.
"Of course we are going to the World Cup," said Herrera. "With all due respect, it's only New Zealand. We are not talking about Panama or Honduras. We are not going to lose to New Zealand."
Herrera is Mexico's fourth coach in the last six months and, in response to a question from the New Zealand Herald yesterday, asserted that he is confident he will be in charge until the 2018 World Cup.
He emphasised New Zealand's height and aerial ability as a strength, though it is not a massive advantage. The average height of the All Whites is 1.81m, the Mexicans 1.78m.
New Zealand (3-4-3): 1-Glen Moss (GK), 3-Tony Lochhead, 5-Tommy Smith (capt), 7-Leo Bertos, 8-Michael McGlinchey, 15-Ivan Vicelich, 16- Jeremy Brockie, 17-Kosta Barbarouses, 20-Chris Wood, 21-Jeremy Christie, 22-Andrew Durante.
Substitutes (from): 2-Jake Butler, 4-Ben Sigmund, 6-Bill Tuiloma, 9-Shane Smeltz, 10-Rory Fallon, 11-Marco Rojas, 12-Tamati Williams, 13-Chris James, 14-Storm Roux, 18-Craig Henderson, 19-Aaron Clapham, 23-Jacob Spoonley (GK)