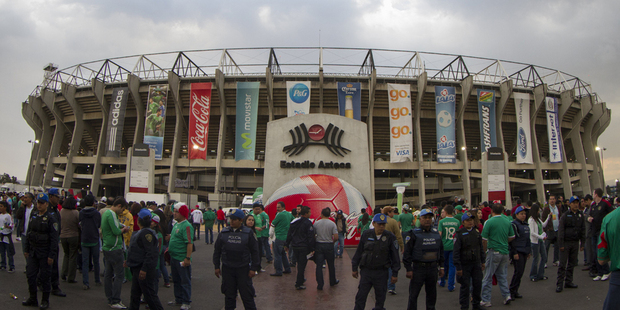 When it comes to the Azteca Stadium, you can believe the hype.
Sometimes there is disappointment when you make a long awaited visit to an iconic place but El Estadio is a delight.
The first thing you notice is the scale - it's truly vast. Until earlier this decade it held up to 120,000 people, but a FIFA mandate saw it recently convert to an all-seater. And only 105,000 capacity.
The stands are steeply banked, creating an incredible atmosphere while more than 850 corporate boxes encircle the middle and upper tiers.
High in the corner behind one goal is the small section for visiting fans. Four hundred spots have been allocated for New Zealand fans today, though it is likely that the Kiwis will be outnumbered by the police protecting them.
The stadium, which has hosted two World Cup finals, is huge, but also wonderfully designed - a thing of beauty.
This was no Eden Park style rush job; the architects visited cities across Europe and South America for inspiration and they delivered.
It's regarded as the perfect soccer stadium. Noise from the fans travels down and is trapped; tough for the players but wonderful for the atmosphere.
You can also sense the history. The 60m narrow passage from just behind the halfway line where Diego Maradona made his slalom run past six English defenders in 1986.
Outside, near the entrance, there are four plaques commemorating special moments over the years. One celebrates Maradona's "stupendous goal" here in 1986, another pays homage to the "match of the century" between Italy (4) and West Germany (3) in 1970. The field is surrounded by a large moat, and at one end there is a high field with barbed wire but otherwise it is a fairly open stadium compared with other big arenas.
"After a recent injury setback I make sure I did everything possible to be ready for this game," said All White Marco Rojas.
"There was no way I wanted to miss this chance."
"As a player it is the kind of stadium you dream about playing in," said All Whites teammate Chris Wood. "It's a place where magic seems to happen."
In the past that magic has often been limited to the home team. Driven by the fans, chanting "Si, se puede" (Yes, we can). But things have changed somewhat this year.
Whatever the result later today, the All Whites will never forget their moment on the turf of legends.