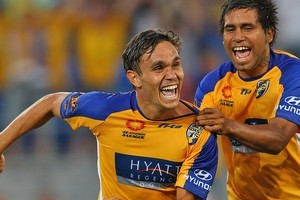 Gold Coast midfielder James Brown saved United from an embarrassing opening round A-League loss to Wellington Phoenix with a late goal at Skilled Park on Sunday.
Brown weaved his way past two defenders and, from 25 metres and directly in front, launched a shot into the right hand corner past overworked Phoenix goalkeeper Mark Paston in the 88th minute.
The goal meant United could settle for a 1-1 draw after looking as though they would go down 0-1 to the visitors largely due to the sure hands and sharp reflexes of keeper Paston.
United generated some high quality scoring shots only to see them caught, deflected or swatted away by Paston who had to compensate for Wellington's leaky defence.
The most intense time was between 44th and 50th minutes when United trio Adam Traore, Ben Halloran and Peter Jungschlager all found a way through the Phoenix defence.
Their shots were all saved by Paston.
Wellington had few quality shots but the one that found the back of the net in the 17th minute was like a perfectly executed training drill.
Daniel Sanchez stormed to the top of the penalty box, flicked the ball wide and right to Emmanuel Muscat, who immediately pumped it to the front of goal where Chris Greenacre knocked it in from a couple of metres.
It stunned United and was against the complete run of play but that well executed play and Paston's brilliance was going to be the difference until Brown stepped up.
The Phoenix were forced to use their bench before expected when Paul Ifill departed with a groin injury in the 52nd minute and Sanchez was subbed out in the 68th minute with a strained calf.

- AAP