Raissa Sidhu is the second generation involved in her family's business, SRS Hair Clinic, which was founded by her father Dr Raj Sidhu. Her mother, Claudia, is also a director of the company.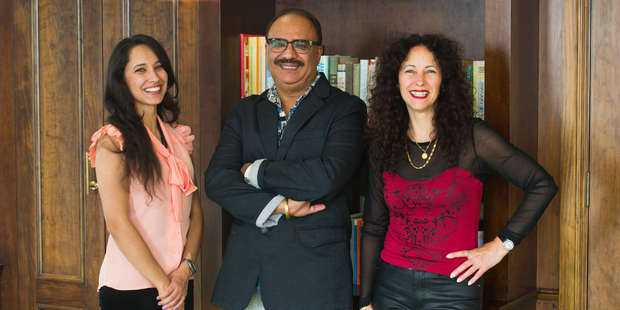 Can you tell me a bit about your business?
Raj: I am an Ayurvedic/naturopathic practitioner with over 25 years of experience in treating patients with chronic ailments and difficult diseases.
During my time in Germany, where I grew up, I worked in conjunction with many mainstream medical practices. I subsequently founded my own clinic in Augsburg, and this grew into several branches in major cities of Germany, Holland and Switzerland as well as in Ibiza, Spain.
After selling the business with the goal of a lifestyle change, the family moved to Australia and later Christchurch, where we soon rebuilt our client base. The Christchurch earthquakes, however, took a dramatic toll on our business, with damage to our premises effectively closing doors. We made the difficult decision to uproot again, shifting our clinic to Auckland.
Since the move, we have rebuilt our on-site laboratory. As the acting production manager, I manage a lab team including the quality manager, assistant production manager and various other lab workers.
My daughter, Raissa, is being trained in all aspects of the business after having finished her BSc Honours in Biomedical Science at the University of Auckland.
Why and how did the different generations of the family come to work together?
Raj: I was involved in the process of making medicines from a very young age. My grandfather and father used to have me grind up herbs and then they'd teach me about their properties. This sparked my love of the medical practice - something I would like to think I have passed on to my daughter.
Raissa was directly involved with the patients in my clinic from her early teens, whether it was speaking with clients in the waiting room, or when she'd ask them questions about their health after a consultation.
One of my biggest motivations is the chance to share the legacy that inspired my career with her and watching how her expertise is helping shape SRS. It's an exciting time for us, both as a family and as a business, utilising everyone's talents and strengths in order to reach a common goal.
Raissa: I was always impressed with the improvements in our customers' health. The knowledge that we could impact people on such a profound level was a driver in my career - from early in my life I felt compelled to study medicine.
Now what really motivates me is the opportunity to add new facets and thinking to the business by integrating aspects of modern 'conventional' medicine with the traditional 'alternative' medicines that form the basis of our practice.
What are the benefits of having the different generations working together?
Raj: In a family, you're aware of everyone's strengths and weaknesses, and how to best support them. We are fortunate to be able to draw on the experience and knowledge that comes with many years in the business, balancing that with new and fresh thinking and the modern skillset of the younger generation.
Raissa: Integration of intelligence is essential for business; it combines both the necessary experience that only time can give you with modern skills, research and technological knowledge that the younger generation comes equipped with. It essentially gives you the best of both worlds.
What are the challenges?
Raj: In a family, everybody feels confident they can say their piece.
Sometimes it's easy to be more critical of family, simply because you feel you can speak more freely with them. It's how that critique is delivered that can either enable or detract from a business.
While it is important to respect each person's strengths and expertise, you also need to be able to think critically. The best way to put criticism in perspective is by always remembering it relates to the way a task was carried out - it's not personal. In order for this to work, both parties need to be willing to improve and to respect that, even as family, you have to critique performance as you would any other staff member.
What I'm learning to embrace as Raissa becomes more involved in SRS is the need to relinquish control a little, to trust her knowledge and instincts and to help guide her learning rather than dictating it.
Raissa: We need to constantly remind ourselves that new or old schools of thinking are not necessarily more important than each other - that they can be complementary in most instances.
I think my parents have been fantastic in acknowledging the role that generational transition will play at SRS. Because Dad is a third-generation practitioner, they recognise how important a role the next generation plays in shaping the future of a business.
How do you separate your working and family lives?
Raj: The reality of being an entrepreneur is you always carry your business with you. Often it's simply not possible to sign out or switch off just because you're at home. In saying that, the fundamental tenet of our business is good health and a proper life balance. We do try to remind one another of the importance of down time, particularly for the things that really matter such as family.
What are your top tips for creating happy intergenerational working relationships?
• Respect each other and appreciate their value. Every generation brings something to the table.
• Be open to constructive criticism.
• Be open to learning new things, new ideas and ways to improve on old, existing systems.
• Integrate the intelligence and strengths of each generation.
• Make time for family aside from the business and learn to separate the two.
Coming up in Small Business: Cashflow is king, particularly in smaller businesses. So what are your tips and tricks for getting paid faster? If you've got some to share, get in touch: nzhsmallbusiness@gmail.com.