Van Dyck Fine Foods, run by Marcel Naenen and Inge Vercammen, makes Marcels pancakes had its first supermarket order in August 2000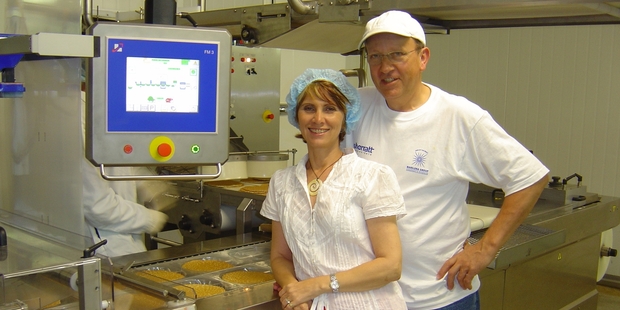 What are your beliefs about customer service?
Deliver your best product. Quality assurance is important. Be consistent, on time with deliveries and respond to complaints immediately. Work on ongoing improvement of your production system, staff training and follow up. Get to the highest food safety and quality standards and have all those certifications in place. Then you have a win win situation for all parties involved.
Are you able to increase your manufacturing if a big order comes in? How have you manage this?
We are able to cook an amount of hotcakes to fill a 40' reefer per day.
We extended last year our building and brought in a new cooking line with cooling spiral and freezer spiral to snap freeze each individual product . We also doubled up the space for the storage freezer. At this moment in time we have enough orders to keep going every day of the week but we are working at full speed to get contracts for export especially to ASEAN countries.
Any tips to other food businesses starting out on how to ensure customer service is excellent?
Deliver quality time after time. Stick to your guns in what you are doing and do not jump on any request of possible new products that comes on your desk.
Launching a new product is very expensive exercise, therefore do a consumer research . It will be worth the money to avoid mistakes. Foodstuffs will give you three months to prove the product is a good seller. Have a marketing plan in place, advertisements, PR , in store promotions and tastings to get the products launched in the best possible condition to survive the three months and beyond.
We have developed a new product and to make that on machines, we have to buy tailor- made machines and extend our building as we need new allocated space. At the moment we make the new product by hand.


Next week - we are going to be looking at the export sector and how small businesses can take their stories to the world. How do you tell international customers about your great product from this remote country?