Liz Eglinton, founder of Snapper Rock, a range of UV50+ childrens swimwear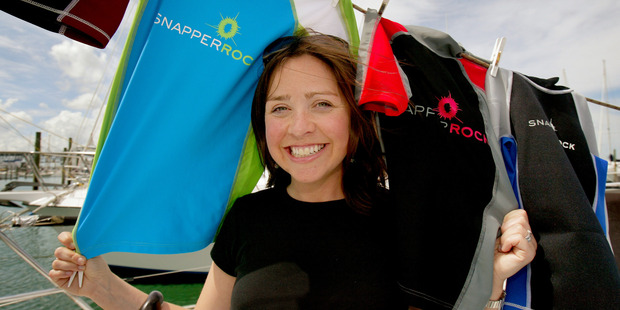 Liz Eglinton launched the brand in the USA in 2003 whilst living there and now the business sells its rash tops, board shorts, baby sunsuits, hats and accessories all around the world.
What trade shows do you go to?
We attended our first major trade show in New York in 2005, the ENK Children's Club. We chose this one because when we contacted our favorite childrens' retailers we found this is the show that they all attended to purchase their collections. It was also an easy drive from where we were living, so we loaded up the Surbuban, Tiki Hut and all, and set up our booth. As well as the ENK show two to three times a year, we do the International Swimshow in Miami, Surf Expo trade shows in Orlando, as well as Swim Collectives Huntington Beach and ISAM in Las Vegas. Our distributor also attends shows in Europe.
We choose the shows that will attract the majority of our target customers, with our swimwear sold in retail stores, resorts, department stores, surf stores and so on. Each show we attend covers a slice of each of these markets.
We usually add one or two new shows per year on a trial basis and if they are successful we will add these to our mix.
What mistakes have you made with trade shows?
Our first trade show was very funny - we took hard flooring which collapsed as we entered the show. We had surfboards and set up a very "busy booth", it was positioned amongst girls' communion dresses! From then on, we have steamlined our look - less is more - and the images of our range is what sells.
We are still learning from every show how to make our booth better, how to freight gear so we are not spending two days following the show waiting for the freight company to pick up our crate.
Location in the show is also key - we now have quite a lot of say in where our booth is positioned and this only comes from having done the same show year after year.
What have trade shows done for your business?
Trade shows have allowed Snapper Rock to go from selling in one local store to over 650 stores around the world. There is huge international exposure from attending the shows, most of our international stores outside the USA have come from attending the trade shows.
The beauty of the USA is its size. We were blown away when a customer had written a sizeable order at a trade show and then said, times that by 15 for our 15 stores!
It also allows you to see what your competitors are doing, not to mention being a lot of fun. The Surf Show in Orlando has wave pools in the middle of the convention centre with water-skiers and wake boarders - there is always plenty of entertainment.
Which shows have been the most valuable to you so far?
All our regular shows are critical to our business. It's as much now about meeting up with our regular customers, and networking after the show.
The real key to attending trade shows is that you have to establish and maintain a presence over time at the shows. It's how you establish wider brand credibility.
There is little long term value in going only once. We have had many customers telling us they have been watching us. One retailer that has 20 stores around the USA and only last year put a sizeable order in, said they had been watching us for five years. Retailers need to know you are in for the long term. If the show has been successful for you, you need to come back year after year. Customers need to know you are sustainable.
What are you trying to get from a trade show each time?
Sales! Written orders, however some trade shows we attend are much more about networking. The key to attending any trade show is the follow up after the show, we make notes on every customer no matter how small or large they are, and our global sales director, Julie Rich, does an amazing job of following up after the show.
We just got into the Marriott Rewards Program through Skymall this month - this was a contact made at a show in Las Vegas last September, so remain persistent and add contacts onto all your company communication. A number of customers have recognized the brand purely from all the emailing that our sales team do after the show.
What is the cost of having a stall at a trade show? Is it worth it?
On average they cost around $5,000 per show depending on where you travelling from.
This includes trade show booth space, booth supplies - some shows come with hard walls, some come with nothing, you have to build from scratch including floors, walls, and lighting.
Some shows you have to become a member before you can join so there is always paper work and costs even before you attend.
What exciting business deals have emerged from previous trade shows?
Just about every win we have had has been from a contact made at the trade shows, from getting into Barneys in the States, to the largest high end catalogue in the US, as well as all our hotel chains including Westins, Hyatts and Four Seasons. Both our distributors, our one in Singapore and in the Netherlands have come from meeting them at the trade shows. Our Netherlands distributor flew over from Europe for two days just to meet us.
He kept telling us he was going to place a very large order which until the wire came we were always unsure whether we believed him!
What would be your advice to new businesses going to a trade show?
Research the shows most relevant to your business, find the stores you want to be in and get a list from the shows of customers attending before you go. And follow up - this is key.
For USA shows, the first question customers ask is: "Where do you ship from?" Make sure you have a USA warehouse/basement before you attend. Americans love that we are a Kiwi company- but they want the American presence.
A lot of shows have an area for first time exhibitors. This is where you want to be so you can get all the media exposure - there's always someone trying to find the next big thing.
If you can attend the show yourself, this helps. When we have given the range to a group rep to exhibit, we have never done as well as when our sales team is running it.


A number of smart SMEs are running topic workshops for clients and others, setting the agenda of discussion in their field of expertise. Tell us your stories.