Bill Wallace, co-founder of Wallace Cotton, whose chosen charity is the Starship Foundation.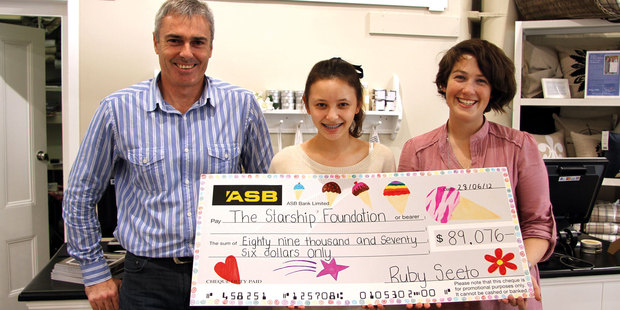 What was Wallace Cotton looking for in a charity partner?
We were interested in partnering with a cause that would resonate with our customers and with our staff, and we also wanted to leverage our skills and our business to make a significant contribution toward a chosen charity.
How did you decide on Starship and how long has the relationship been?
In 2009 we were introduced to Starship and also to young cancer survivor Ruby Seeto, then aged 12. She had spent 12 months in Starship Children's Hospital undergoing major surgery and chemotherapy when she was nine years old. Ruby had decided that she was going to fund-raise for Starship, so she designed and produced a tea towel that she and her family sold, raising $5,000 for Starship.
We were inspired by Ruby and what she had achieved, and we also saw that we could help Ruby to raise even more money. In mid 2009, we produced a new tea towel to Ruby's design, and sold it through our stores and website.
It was a great success, selling out quickly and raising over $30,000. Since then, Ruby has designed a new tea towel for us each year, and in total we have raised approximately $250,000 for Starship. The tea towels sell for $10, with $6 from each tea towel donated to Starship. The Tea Towels are still sold in all of our stores, as well as our wholesale partner stores, and through our website.
All of our sales staff are keen to promote the Tea Towels, many of which are ordered online or over the phone from all parts of New Zealand.
How are you communicating your involvement to your customers?
We market each new tea towel to our existing customers via email newsletters and our seasonal catalogues, and through Point of Sale signage in-store. The new tea towel release and the end-of-season cheque presentation are sent to local media by our PR consultant. Starship also include the tea towels in their regular newsletters to their
database, which introduces the Wallace Cotton name to a wide range of Starship supporters throughout New Zealand.
What has the feedback been from customers about your charity involvement?
The customer feedback has been overwhelmingly positive, and has created a great deal of goodwill toward Wallace Cotton for our involvement with Ruby and Starship. It has generated loyalty to our brand, as well as introducing many new customers through the PR that is generated.
How does Starship align with the Wallace Cotton brand?
Ours is a family business with family values, and Starship is all about looking after families. Many of our customers and our staff have had a young family member treated at Starship Hospital, and they value the opportunity to give back through purchasing the tea towels.
Any tips to other businesses looking around for a suitable charity partner?
The partnership should be a genuine fit with a commonality between the two entities that is authentic to consumers. Try to find a cause that has meaning for your team and also for your customers, and if possible immerse the fund raising into your everyday business, so that it eventually becomes an integral part of your business for staff and customers alike.
NZ tech businesses are gaining attention and awards around the world. What have been their successes and challenges? Email me, Gill South at the link above with your ideas.