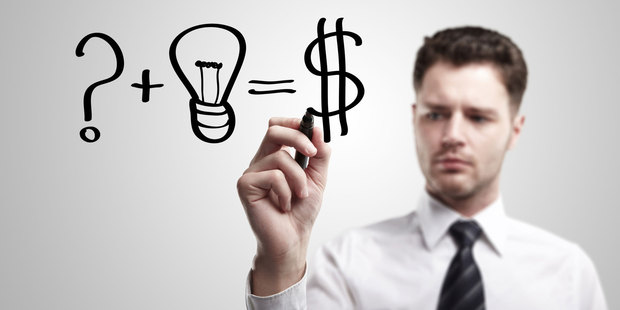 One of the big sales opportunities for many businesses is from 'invisible sales'.
Invisible Sales are sales that are often 'hiding in plain sight' and can easily be worth hundreds (and even thousands) of dollars of brand new profits every single week.
One way to identify invisible sales for your business is to find new uses for your products or services.
An interesting example of new product uses transforming sales is bubble wrap.
When bubble wrap was first invented it was actually sold as a new type of plastic wallpaper. The inventors thought that lots of people would flock to buy their brand new bubble wallpaper because it would be easier to clean than normal wall paper. Then they tried to sell it as insulation. Sadly initial sales were terrible and the inventors had large amounts of their new bubble wrap product sitting unsold.
Then IBM produced a new computer that needed shipping without the delicate parts being damaged. (In those days the only real packaging material available was paper which was not ideal.) Bubble wrap was recommended to help protect this new computer and the rest they say is history.
Now, we have a huge number of uses for bubble wrap. It's not only used as packaging material, but it's a stress reliever and in some cases, clothing material. It's used as cushioning, protection and even to keep drinks cold. We even have an iPhone app that simulates bubble wrap and a Bubble Wrap Appreciation Day.
The good news is that many products and services have new uses that when discovered can quickly increase your sales.
Take the humble Instant Kiwi ticket for instance. It's sold as a simple way for any person to have a bit of fun and potentially win a nice amount of money. Many people buy Instant Kiwi tickets every week and also give them as a gift to people they know in things like birthday cards.
However there is also dozens of business uses for Instant Kiwi tickets as well.
Let's say you wanted to say 'thank you' to 100 of your customers.
One solution is to buy 100Instant Kiwi tickets and send them out to these customers with a short thank you letter.
'Hi John/Jane, just a quick note to say I really appreciate you being a client. Here is something fun I thought you might enjoy. (With my compliments.) It's an Instant Kiwi ticket with the opportunity to win up to $X in a few seconds. I hope you win big. Thanks again for your business. Kind regards. Your Name.'
This could cost you as little as $1 per Instant Kiwi ticket and suddenly you have 100 customers who remember your business in a positive way.
If 5,000 businesses all bought 100 Instant Kiwi tickets and used them to say 'thank you' that is half a million dollars (or more) in brand new Instant Kiwi sales.
I've personally used Instant Kiwi tickets to collect amazing testimonials for clients, generate large numbers of referrals and much more. Sales of Instant Kiwi tickets could easily be increased by millions of dollars a month by showing businesses some simple yet effective ways to use them in their marketing.
The easiest way to find new product or service uses is to chat with a number of your clients each month and find out 'how' they are using what they have bought from you. You'll often discover that some of them have found new uses that you may not have considered yourself. And this can lead to brand new sales.
"Opportunities are never lost; someone will take the one you miss" - Anonymous

Action Exercise:
Chat to a number of your clients this month. Find out how they use your product or service. If some of them have interesting uses for your product or service that you have not considered it could lead to brand new sales opportunities for your business.
Graham McGregor is a marketing consultant and the creator of the 396 page 'Unfair Business Advantage Report.' www.theunfairbusinessadvantage.com (This is free and has now been read by business owners from 27 countries. ) You can email Graham at the link above.