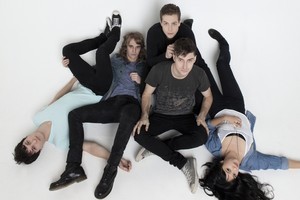 The Naked and Famous have won New Zealand's most prestigious songwriting award - the APRA Silver Scroll - for their number one single Young Blood.
The presentation was made at an awards ceremony Wednesday night at Auckland's Town Hall, with hundreds of stars and music industry leaders present.
"Young Blood is outstanding; it's stroppy, it's youthful and energetic. It makes me want to be eighteen again" says APRA's Anthony Healey "It seems like the perfectly written song for this very point in time. It should take the world by storm" he says.
Many in the music industry consider the Silver Scroll Awards to be the highlight of the awards calendar, and that's not just because the food and drinks flow free for the invited guests.
Each of the five finalists songs are performed by another New Zealand musical act, usually of vastly different backgrounds, the identity of which are always a closely guarded secret.
Young Blood, written by Alisa Xayalith, Thom Powers and Aaron Short of The Naked and Famous was tonight given the reggae treatment by Three Houses Down.
The other finalists were performed by Music Awards Critics Prize nominees Street Chant (Artisan Guns' Autumn), The Unfaithful Ways (Julia Deans' A New Dialogue), Jared, Flick & Caoimhe (The Mint Chicks' Say Goodbye) and The Datsuns with an ear blasting version of Anika Moa's Running Through The Fire (Storm).
Other awards announced were the APRA Maioha Award to Jamie Greenslade aka Maitreya for Sin City) and the SOUNZ Contemporary Award to Chris Cree Brown for Inner Bellow).
Late 60's New Zealand music pioneers, The Fourmyula were inducted into the New Zealand Music Hall of Fame.
The night began with an emotional musical tribute to Pauly Fuemana, who died in January.
To watch the performances from the Silver Scrolls, as well as over coverage - go here
*The Naked and Famous' debut album Passive Me, Aggressive You is reviewed by Scott Kara in today's TimeOut
-Herald Online