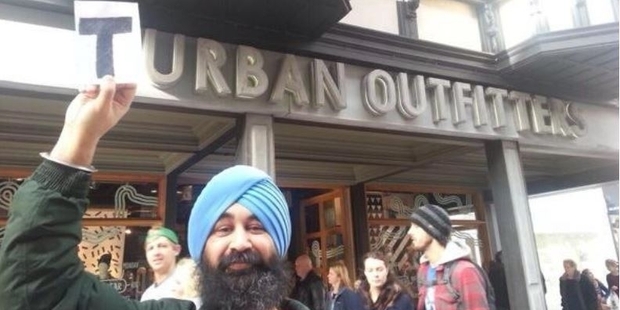 A Sikh finds the missing 'T'.
Kids translate nature into their own language
"Due to an influx of wasps, we had taken to hand rearing some caterpillars," writes Michelle Muller. "One of our little guys was just about to hatch out of its chrysalis when I had seven kids at home. I brought the old chair it had set up camp on upstairs so they could all sit around it and watch. I sat back and enjoyed watching kids getting pleasure and learning from nature rather than from technology. But it didn't take long to be reminded of the tech talk of these kids. After a long delay in proceedings, Mr 7 asked me if the butterfly had 'downloaded' yet."
Watchers imagine the Rabbit's last words
China's first Moon rover, Jade Rabbit, is dying after a solar panel malfunction. Meanwhile, a dedicated social media team are tweeting its demise: "If this journey must come to an early end, I am not afraid. ... If I really cannot be fixed, when the time comes, I hope everyone will remember to help me comfort Chang'e, [the spacecraft that deposited Jade Rabbit on the Moon's surface] ...
Good night, planet Earth. Good night, humanity." (Source: TheMarySue.com)
Carjacker has door shut on him
A woman in Chicago became the victim of a carjacking on Saturday when a man demanded the keys to her 2012 Honda MDX. The victim complied and then fled, but since the car was still in her garage, she closed the garage door as soon as she got outside. The carjacker was trapped until police arrived. (Source: Neatorama.com)
Kayak owner probably more scared than following drivers
Caroline wants to apologies to those motorists on the Northwestern Motorway that she scared on Monday when her kayak flew out of her trailer ... "It was in a cage and I had no idea the wind would lift it out at just 80km/h. Thanks to those who helped me retrieve it. When I think what could have happened, it scares me half to death. I am so sorry."
Pick-up artist a serial offender
Regarding the random compliment-giver in Tuesday's Sideswipe, Helen received a similar approach at the corner of Quay St and Queen St a few weeks ago. "I'd have picked him as East European and he said, 'I know you probably have a boyfriend or a husband or something, but I just wanted to let you know that you look gorgeous'. When I laughed and replied that I have children who are probably about his age, he said he was 34. [I'm in my early 50s]. I turned down his offer of a coffee and walked away with a smile ... But after reading Sideswipe I wonder how many women he tries that line out on? Have any of your other readers met this same charming purveyor of compliments?"
Read this: If you thought one Charlotte Dawson was enough... (Via @SteveBraunias)
Picture this: How second hand mirrors are photographed for sale is oddly compelling, en masse...
Picture this: Alternative New Zealand coat of arms design by Paul Walsh...
Local: Retro furniture fans, check this beautifully restored work of art...
Video: Charlie Brooker on Justin Beiber and the reportage surrounding him... (NSFW language)
Got a Sideswipe? Send your pictures, links and anecdotes to Ana at ana.samways@nzherald.co.nz