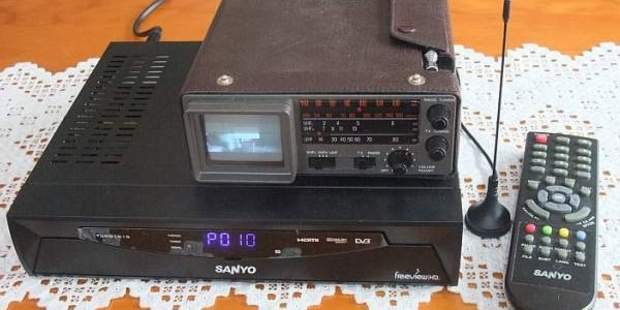 Graham Street of Papakura is getting ready for the analogue TV switch-off this weekend. "With a screen size of only two inches this must be the smallest TV to go Freeview," he enthuses. "Sitting on top of a Sanyo set-top box and using a five-inch UHF aerial and behind the remote control is a Jaycar modulator to convert the audio/video signal from the Freeview set-top box to an analogue TV signal for the small TV."
Ladies show tweeting twit the bird
Small victory for feminism and humour. A Twitter account called @talkSPORTdrive tweeted the following charming request: "It's #TitsoutTuesday girls give me some entertainment before the game starts!" Almost immediately, two women responded, but not as expected. The first wrote: "Here's a lovely pair" and attached a picture of a pair of birds, followed by another woman who added ... "and here are a nice pair of jugs" along with a photo of a matching pair of ceramic milk jugs. Another tweeter offered "a massive rack" and picture of her unemptied dishwasher.
"Here's a lovely muff" offered another with a picture of an ice-skater and the promise of "some big bazookas" included a pair of portable rocket launchers. Nice one ladies. (Source: The Guardian)
Smokers before pets
Dave writes: "We've been looking for a new rental house as our fixed term is expiring and the landlord is returning. Unfortunately most houses have a "no pets" policy and as a result we have been turned down because we have a cat even though we're a professional couple. I know it's an owner's right to choose who they want but I was blown away to read a Trade Me ad saying 'Smokers OK, no pets' ... Maybe I'll make the cat take up cigarettes."
Forget false fluoro fears
"The Hi-Viz Plague," writes Matt Petersen. "It seems that anyone doing anything more risky than picking up a pen has to wear one of these putrescent-coloured articles of clothing. On the news recently I saw a bunch of jurors being taken to a crime scene in a National Park, all decked out in fluoro yellow vests. Were they expecting a speeding forklift to come barrelling out of the undergrowth? Pah!" (Source: Column 8 SMH)
Picture this #1: Athletes come in all sorts of shapes and sizes...
http://twentytwowords.com/2013/11/25/extremely-wide-variety-body-types-among-top-tier-athletes-14-pictures/#more-90908
Picture this #2: Here's an easy way to recognize the classic artists e.g. "If everyone looks like hobos and is illuminated only by one dim streetlamp, it's Rembrandt...
http://themetapicture.com/how-to-recognize-the-artists-of-paintings/
NZ really is for sale: Buy a village on the West Coast...
Or an Island in the Hauraki Gulf...
Video: How to fight a baby...
Got a Sideswipe? Send your pictures, links and anecdotes to Ana at ana.samways@nzherald co.nz.