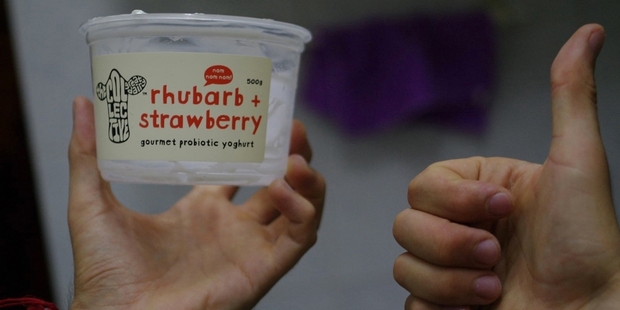 The Collective, a niche New Zealand dairy company, received this interesting bit of correspondence: "We are travellers from Russia and we came to Hong Kong and we wanted to eat but we had to steal some food from the supermarket and we have stolen your yoghurt. It was amazing and tasted like the best yoghurt in the world." The dairy folk replied: "Golly. Now being upholders of all things true we should be telling you guys how horrified we are that you have done something rather stinky ... but in saying that we find your gumption rather funny ... Just don't do it again!"
Pythons put the squeeze on
Professional masseurs at the Bali Heritage Reflexology and Spa in Jakarta are offering snake massages using pythons of varying sizes, AFP reports. "It is a very unique sensation," says one customer, as the snakes slid over him during a recent session, adding the treatment "gives you an adrenalin rush". Three reptiles named Jasmine, Muscle and Brown were draped over his neck, rolled around on his stomach and back.
The snakes' mouths are tied shut with tape and their entire experience lasts 90 minutes and costs about $45.
Not a shred of evidence
A visitor to Greenlane Nosh writes: "I know Nosh is known for its unique products compared to every other supermarket, and that every supermarket must show product of origin for the fresh fruit and vege. But when did New Zealand start having coconut trees?"
Banking on queue logic
A reader writes: "I bank with the ASB in Takapuna and have no problems dealing with any of their staff, regardless of their original mother language. I am not sure why anyone was moved from a specialist service line set up for those more comfortable discussing complex financial matters in Korean but I suspect the bank has to deal with individuals like some of your readers who object in principle to a bank providing a service in a different language. These are the sort of people who demand the bank should not employ any staff whose accent is not from their acceptable list of countries. The claim of racism is as silly as claiming being diverted from a line set up for new home buyer inquiries is reverse racism against homeowners. Maybe we are reading too much into this. Perhaps the bank thought a European joining a line of Koreans being served by a Korean teller under a sign saying Korean Banking may have been a little confused and were really not intending to move their savings from a Seoul bank account or send a remittance to elderly parents in Pusan."
Inventive: Horizontal shower; why stand up when you can lie down...
Picture this: Nice Mash-up...
Chart: Are you lonely? Tired of working on your own? Do you hate making decisions? Hold a meeting...
Video: The Russian Police Choir singing Daft Punk's Get Lucky.
Got a Sideswipe? Send your pictures, links and anecdotes to Ana at ana.samways@nzherald.co.nz