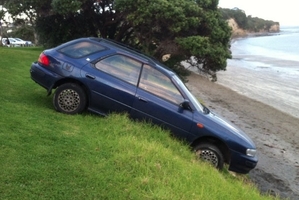 It's all downhill from here.
Working hard to achieve dangerous dangle
Lance writes: "Saw this effort at Army Bay, Whangaparaoa, on Saturday morning. Going by the tracks leading to it, and the various other areas of torn-up grass, these little sods may have got the fright of their lives. The front wheels are poised over a 3m vertical drop that would have definitely had this car on its roof at least. Not shown are the extensive bollards 'protecting' the foreshore from the parking area, so they tried really hard to get here."
Viewer unimpressed by cheeky 'free lunch' message
A reader writes: "I wrote to TVNZ to complain about changes they made to their on-demand iPad app. It used to play only one advertisement before the show and now it plays multiple ads through the whole show. Some little upstart wrote this not very professional reply ... 'Sadly, there is no such thing as a free lunch these days. Money makes the world go round, and without advertising we wouldn't be able to bring you all our fantastic shows for free!"'
Tradie takes what isn't nailed down
Tradie fail: "Recently my mother-in-law was renovating a property in Howick. We stored the 60-year-old 5m cedar mast for our classic dinghy in the garage away from any building work, only to discover that the builder had cut the end off the top of the mast and, when confronted with the evidence, he said he wanted the rope!"
The perfect husband
After visiting dozens of bridges all over the world for her Singing Bridges musical project, Australian artist Jodi Rose decided this was the one she wanted to celebrate her love for bridges with. "Although he is made of stone, the resonance of his being is very present, and I feel at peace in his strong embrace," she said. "He makes me feel connected to the earth and draws me to rest from my endless nomadic wanderings. He is fixed, stable, rooted to the ground, while I am nomadic, transient, ever on the road. He gives me a safe haven, brings me back to ground myself, and then lets me go again to follow my own path, without trying to keep me tied down or in thrall to his needs or desires. I am devoted to him. The perfect husband ... strong and silent!"
Many agree Vogels has lost its mojo
Vogels take note; many of your customers emailed saying the same thing ... Jan writes: "The current Vogels loaf is a completely different product from the delicious, healthy, grainy, gutsy loaf from way back ... This is a constant source of complaint, irritation and conversation among my colleagues, family and friends. Bring back the previous Vogels bread recipe. And quit taking the public for fools."
Beyond our control: Bad weather in California.... and sinkholes from around the world...
Picture this #1: Andrea writes: "This was one of the facecloths given to me by the nurse one morning on my most recent visit to North Shore Hospital...dumbfounded!"
Picture this #2: This guy looks like he'd be a nightmare real estate agent...
Video: Grandma can drum...
Got a Sideswipe? Send your pictures, links and anecdotes to Ana at ana.samways@nzherald.co.nz