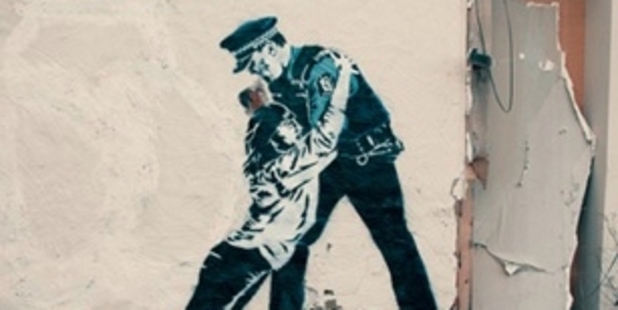 Moral behind murals
Artist Otis Frizzell was driving down Williamson Ave, Grey Lynn, past a mural he did. "Otis sold out to the pigs" is written in large letters across it, referring to the artwork he did for a police recruitment campaign. Frizzell is bummed and responds on Facebook: "I can only assume the 'pigs' this person is referring to are a) The Wellington policewoman who dedicated 10 years of her life to busting open an international child porn/paedophile ring and brought the despicable offenders to justice, or perhaps b) The brave young officer that entered a crumbling building seconds after the Christchurch earthquake and risked his life to drag injured people to safety. I checked out who I was supporting in that campaign and those are the types of police the whole job was about - have a voice and an opinion and stand up for what you believe in, but choose your platform well or you come off looking like a dick."
Vogels - does it pass your taste test?
"Has anyone else noticed that the once wonderful Vogels is a pale wheatmeal shadow of its former iconic self?"asks Helen from Hillsborough. "When I rang to inquire/complain the customer person at Goodman Fielder said she'd not had other calls about this. Really? Has no one else noticed?"
Nasty little words Apple doesn't like you to use
Patronising technology. Did you know your Apple devices have a long list of "sensitive" words that the devices won't autocomplete for you and you would have to type out in full. An investigation by the Daily Beast says this list includes words such as "abortion", "rape," "ammo", drunken", "abduct", "arouse", "Aryan", "murder", and "virginity". If a user types "abortiom" with an "m" instead of an "n," the software won't suggest a correction, as it would with nearly 150,000 other words.
Paul and Pippa in 1000 little pieces - still in original box
How important do you have to be to be immortalised in a pastime of the elderly/infirm? Very. The Trade Me auction sales pitch reads: "Here is your chance to own a piece of TV history. The jigsaw is still sealed and been in a cupboard for a few years now. I received it directly from the Breakfast show as a competition consolation prize whilst Paul & Pippa were at the top of their game. It's made in NZ by Holdson and I seem to recall they showed the making of it as an article on their show. Very limited edition and I'm sure it will never be made again so if you're a collector of TVNZ memorabilia, or just love Paul & Pippa here is your chance." (Hat tip Andrea Coe)
Tattoos you really don't want to see
Weird Magazines: "Outside a tattoo parlor I have seen a mag displayed called Tattoos Down Under," writes Mark. "Since Aussies and Kiwis don't usually refer to themselves as 'down under', I can only assume it refers to the tattoos! Oooerrr - a whole magazine?"
Video: Drone being used for something good - flying over Niagara Falls. Beautiful.
Business time: Coke has been a bit flat in China but a drink called Pulpy Super Milky - a mixture of whey protein, milk powder, fruit juice, and coconut chunks - is going great guns, helping China become smitten with dairy and securing its spot as the biggest export destination for New Zealand... Take a look...
Video: Lyrics to Alanis Morissette's confused 90s song are finally ironic....
Got a Sideswipe? Send your pictures, links and anecdotes to Ana here.