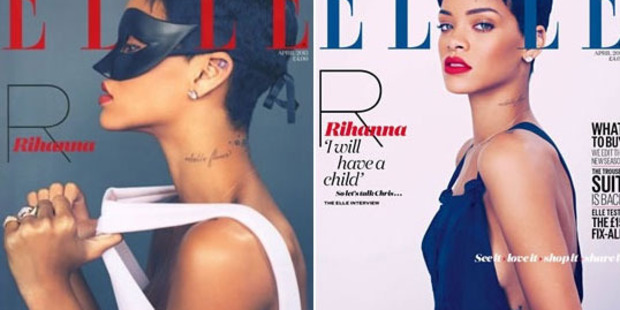 Too many covers
"Does anybody else find the practice of magazines publishing different variations of front covers for the same month frustrating?" asks Catherine. "Just this week I bought two of the same after picking another one up at the local dairy. Same magazine, entirely different cover. Elle UK has two April covers with Rihanna on it (above). And Vogue Australia for March did many. Is this a money-making exercise? Magazines can't be returned as it will be presumed they have been read. It's really confusing. Publishers, stop it already!"
Telecom tardy on number updates
A reader writes: "Ever wondered how long it takes for Telecom to update its online info? My wife and I moved from Glendowie to Stanmore Bay in November and Telecom gave us our new number a couple of weeks before we moved. Friends tried to contact us yesterday but couldn't find our new number online. In addition, when I looked for it I couldn't find us under either our old or new addresses. Also, when I searched online for the number of the people who bought our Glendowie house, I found their number still listed under the house they moved out of in November!"
Reining in soccer parents
Yesterday's story about Eastern Suburbs Soccer Club under-10 coach Billy Harris asking parents to be silent on the sidelines got a mixed response. "When my kids were playing under-5s soccer I couldn't imagine no one saying anything," writes this mother. "Especially when one of the kids would be kicking the ball the wrong way, which is a regular occurrence." Another reader adds: "The next All Blacks game the stadium should be silent. We don't want to distract the players after all, or give them the idea we want them to win." But a smattering of readers agreed parents should rein in their enthusiasm. "It can be very confusing for the kids with a whole lot of adults yelling over each other," says one.
Down with the kids: What is twerking?
List: 43 Things That Will Make You Feel Old...
Twitter gold: Proof Judith Collins is tweeting for herself.
Book: How to Get More Fun Out Of Smoking...
Video: Misheard Lyrics (90s version)
Got a Sideswipe? Send your pictures, links and anecdotes to Ana at ana.samways@nzherald.co.nz