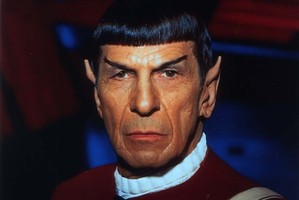 Locked in a hot car: This dog's stuffed
During a very hot afternoon in the Bay of Plenty John decided to cool off by walking in the surf at Papamoa Beach. "I parked and locked my car with Rolly left seat-belted in the front passenger seat. Rolly is a very large brown Purex soft toy dog who is my travelling companion," he explains. "When I returned to my car I noticed a ticket under the front window wiper ... a message from a passing stranger who had noticed Rolly sitting in a very hot locked car with no water or food: 'Animal abuse. Shame on you!' I had a quiet chuckle and wished that I had the opportunity to have met the humorist."
Mr Spock, the agony aunt of pure logic
In 1968, a teen magazine published a letter addressed to Mr Spock of Star Trek. The unnamed teen said she felt like an outcast, as she was bi-racial and felt rejected by both races. She ended it with "I guess I'll never have any friends". Leonard Nimoy replied, speaking of Mr Spock's experience as a child of a Vulcan father and a human mother, with this. "Spock learned he could save himself from letting prejudice get him down.
He could do this by really understanding himself and knowing his own value as a person. He found he was equal to anyone who might try to put him down - equal in his own unique way. You can do this, too, if you realise the difference between popularity and true greatness. It has been said that 'popularity' is merely the crumbs of greatness. When you think of people who are truly great and have improved the world, you can see that they are people who have realised that they didn't need popularity because they knew they had something special to offer the world, no matter how small that offering seemed. And they offered it and it was accepted with peace and love. It's all in having the patience to find what you yourself have to offer the world that's really uniquely yours." (Via Buzzfeed.com)
Good guys come through
A small plug for the good guys (we seem to advertise our bad experiences so much): Bosch Oven. Stainless steel. Six burner freestanding. Five years old. Much loved. Last week. Opened door. Door fell off; Bang. Bosch customer services say ... Can't fix door; Part no longer available. Me: Horrified! Bosch customer services says ... Will replace oven instead. Me: Delighted! Today: Brand new oven arrives. Installed by Abel Appliances. Old one taken away. Price of oven $$$$$. Cost to me $0. Bosch. Customer Services. Silver service. Old fashioned values. Fabulous care. Much loved. Me: Ecstatic! Thanks Bosch.
Baked goods: A really cool Pinata cake....
Good (short) read: English boxer Curtis Woodhouse turns up on the doorstep of his Twitter troll...
Classic Clip: Sharon and Fred make movies... (here's the background here)
Video: Love this - an ad for our times...