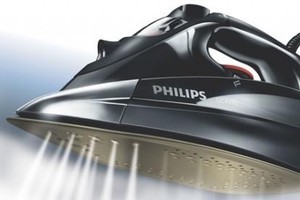 Here's progress for you. Our men are more than capable of ironing their own shirts, especially with this Philips iron designed just for men. The appliance is described on the company website as a "power tool for ironing". It's an "Anodilium Soleplate Man Iron", apparently, with features such as "more power, more steam, more performance" to give you "an endless excellent gliding experience" which will "blast" away all the creases.
Hardly best of Wellington
"I'm taking my partner and two children to Wellington in January," writes Fiona, "so thought I'd check out what we can do while there. I came across one website, ki-wi.co.nz, with the headline: Things to do in Wellington. The first three suggestions sent me to Kaikoura to go whale watching, to Auckland on the Overlander train, or to Picton on the Interislander ferry. Are they trying to tell me there is nothing to do in Wellington so you are best to leave it?"
Trials of using dishwashers
Mark Watchman, of Tauranga, writes: "The first thing you must do when purchasing a dishwasher is buy a new set of cutlery, plates and cups because every time you want one they are dirty and in the dishwasher. You need to rinse everything well to get a half-decent job. Dishwashers do not do as good a job as hand washing. A hand wash has all the dishes washed and dried and kitchen sink cleaned before a dishwasher is even a quarter through its cycle. And dishwashers do not give pots and pans the goldilocks scrub that they need."
Nipple alert for smokers
Smoke before or after a breast lift and your nipple could fall off, a US plastic surgeon warns. Dr Anthony Youn of Detroit says nicotine and the carbon monoxide in cigarette smoke can diminish blood flow. "The toxins act as a virtual tourniquet. If the blood flow to a particular body part becomes greatly reduced or halted, that body part dies," Dr Youn said. "I cringe every time I see a patient for a breast lift who is a smoker. I'm deathly afraid that despite my warnings, she will smoke before or after surgery and cause her nipples to turn black and fall off." Dr Youn said he had been forced to use leeches on patient's nipples to increase blood flow.
Dangerously stupid spies
It's a pain if your password is hacked and your identity stolen. But if the CIA's password is hacked, it might mean a death sentence. CIA spies in Iran and Lebanon were caught because their password was cracked. In Beirut, two Hizbollah double agents pretended to work for the CIA. Hizbollah then learned of the restaurant where multiple CIA officers were meeting with several agents. The CIA used the codeword "PIZZA" when discussing where to meet the agents, US officials said. Two former officials describe the location as a Beirut Pizza Hut. (Source: ABC News)
An angel behind the wheel
A reader writes: "My office looks out across Taharoto Rd and I often see a lot of idiots out there. But occasionally I see a saint. This was one driving a Birkenhead bus on Tuesday afternoon. An old lady from the retirement village, who was using a walking frame, was attempting to cross from Smales Farm to Shea Terrace. Slowly she made it to the centre. A disbelieving driver in a stationary bus got out, stopped the traffic and got the woman to the other side safely."