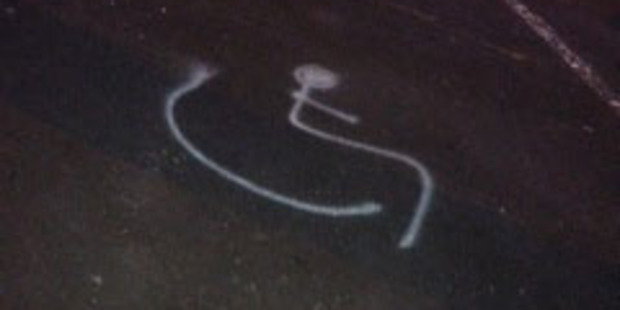 Disabled parking space on a budget.
Insurance firm sees a profit in moon shine
In an attempt to broaden their range of online products Chinese company Taobao Insurance is selling an internet-based policy that guarantees Chinese people who take advantage of it will see the moon during the annual Moon Festival, when the moon is at its roundest and brightest. "People living in 41 cities of China can pay a premium of 99 yuan ($21) and receive 188 yuan if they fail to see the moon through poor weather. The company will stand the loss if the cities are cloudy, foggy or hazy on the evening of the festival." (China Daily)
What a dreadful waste
"I could not help but cringe when reading in the Herald about the Bunol (Spain) tomatina festival where people throw ripe tomatoes at each other in a giant food fight," writes Ross from Rotorua. "It was not the thought of the mess but the fact 130 tonnes of the fruit was being wasted. I had just left a supermarket where they are priced at $11.99 a kilo. At a rough calculation that's $1.5 million worth.
The town is in debt to the tune of €5 million ($8.4 million) and charges visitors to take part."
Today I learned (Via Reddit):
1. After a girl in his community was killed by a red-light runner, a 74-year-old Chinese man spent an entire day hurling bricks at bad drivers. With his neighbourhood cheering him on, he smashed more than 30 red-light runners' cars before the police asked him to stop.
2. Martha Stewart broke up with Anthony Hopkins after seeing him in Silence of the Lambs. She was unable to avoid associating Hopkins with Hannibal Lecter.
3. The average personal space boundary is between 20cm to 40cm from a person's face.
Biker's dummy doing good work
Kim Hogan writes: "The motorcyclist in yesterday's Sideswipe is me, and I'm with the Fat Bikers Motorcycle Club promoting the Bikers in Blue Ride for Prostate Cancer awareness as part of the Blue September campaign. The dummy is Nigel, our ride mascot and general all-round celebrity who will be joining us on the ride. Check out the details at www.fatbikersmc. co.nz. We have had a few sponsors help us out with prizes this year and we are hoping for 300-plus bikes to join us on the ride. It departs from Placemakers in Pakuranga at 9.30am on Sunday, September 15."
Signage: Only healthy intestinal tracts allowed in this bathroom ...
Cuteness: Well-dressed animals you say? Yes indeedy. A snake in a hat and a cat in a denim jacket and much more from overly attentive/bored pet owners ...
Picture this: Former skinhead undergoes 25 surgeries to remove racist tattoos ...
Picture this: China's most embarrassing childhood portraits ...
Video: Move over David Attenborough, this guy is the next big thing in nature documentary narration...(NSFW language)
Got a Sideswipe? Send your pictures, links and anecdotes to Ana at ana.samways@nzherald.co.nz