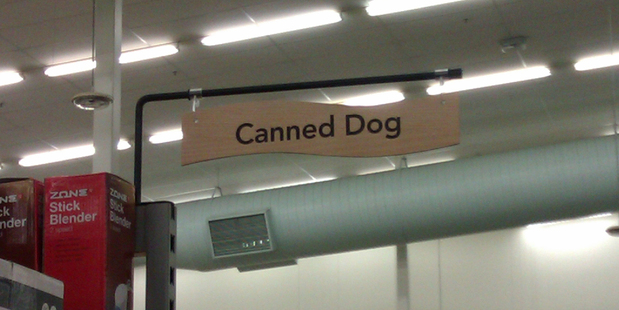 Simon Bradwell spotted this sign in Thorndon New World, Wellington. "Staff led me to believe they refer to pet food, rather than the pets themselves," he says. "Apparently the signs are going up in New World stores around the country. Barking mad, surely?"
Tabloid stunners
Best tabloid headline puns (mostly from the Sun):
1. When North Korea decided to conduct a nuclear test in 2006, International condemnation was swift but the Sun's headline was a nod to a cheesy Sound Of Music lyric: "How Do You Solve A Problem Like Korea?"
2. The Sun's headline on a story about a woman who bit off a man's testicle during a fight: 'I'm having a ball!'
3. Alongside a picture of a kestrel and an owl fighting over food: 'Hawk Kestrel manoeuvres in the park.'
4. When musician Sting got snapped coming out of a discreetly labelled door while on tour with the Police ... the Sun's headline: "Sting's massage in a brothel."
Zealous cleaner too scary
Tradesfolk going the extra mile ... "I had a cleaner who cleaned very well for a few weeks, then got ahead of herself," says Ella. "I didn't mind a few kitchen gadgets being rearranged but this habit started to go a bit wild when my fridge magnets were straightened into rows, the pinboard with notes was 'tidied up' into categories and the TV in the living room moved to a different corner. I asked her to leave, it was too scary."
Blame it on the mall
Regarding the photo of Give Way markings next to a no-entry sign at Westfield Albany, Martyn blamed the "stupid council", but the access way is on private land, so it seems to be the responsibility of Westfield.
Landlord must pay water charge
Julie says Graham does not have to pay the fixed water charge because his tenancy agreement should read "tenant shall pay for metered water". "The fixed charge is not metered and is a line maintenance charge the landlord is responsible for. The landlord would have to pay the fixed-charge portion even if the property wasn't tenanted. Graham can call Tenancy Services to have this clarified."