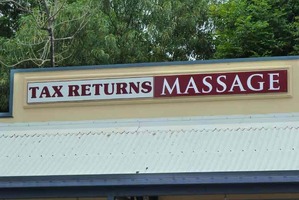 Stu Owers of Pukekohe spotted this sign in Port Douglas, Queensland. "The Queenslanders have always had a bit of a creative approach to the law," he says.
Lord, have mercy on sponsor blues
Olympic Games boss Lord Sebastian Coe has warned that anyone wearing a Pepsi T-shirt is likely to be booted out of the venue because it would upset sponsors Coca-Cola. Spectators in Nike trainers "could probably" be allowed even though adidas are also sponsors. A London cafe manager was ordered to take down five bagels in Olympic rings style, and a Dorset butcher had to take down five rings made from sausages. ( Daily Record)
Nice thought, Len, but ...
Two new books on the history of New Zealand's Chinese market gardeners - Sons of the Soil and Success Through Adversity - were launched in Mangere on Saturday. Auckland Mayor Len Brown, doing the honours, began his speech to the 600 guests in Putonghua (Mandarin).
The gesture was much appreciated by the growers, even though few would have understood him. Coming from southern Chinese pioneers, they speak Cantonese.
Muffin right about square ham
A reader writes: "Note to cafes serving eggs Benedict with ham and charging $16.50 or more. Use real ham, not cheap and nasty processed square-shaped ham from the supermarket ... "
Top gear mishap
Graeme says when he sat his licence in the early 1970s, the police officer told him to drive around the block. "I took off, rather pleased I hadn't stalled the old van that was to be mine; changed into second gear (it was a manual column change), went to change into third when the gear lever became detached from the rest of the vehicle! The officer suggested I coast into the kerb and stop. A week later, with a repaired vehicle, I completed my drive around the block and received my licence."
Old-school licensing
"Back in the 1920s (when my father got his licence), you simply went to the Post Office and purchased a licence for five shillings," says Maureen. "They took your word you could drive and knew the road rules."
Happy hippy licence
"I sat my heavy traffic licence in my house truck," writes Julie. "I had taken out the passenger seat so my dog could ride in comfort. The policeman sat on a beer crate. Yes, I did pass."