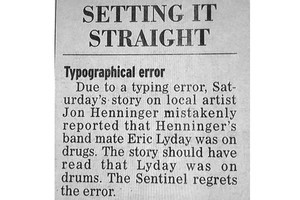 A defamatory typo.
Govts twisting Maccas' arm
"The Big Mac Index has been used to compare prices across countries," writes Thomas Lumley on statschat.org. "Brazil currently has very high prices due to a combination of inflation and a strong economy, and this shows up glaringly in the Big Mac Index. It has recently been reported that the Brazilian government has persuaded McDonald's to lower the price of the Big Mac (relative to other McDonald's items), so that Brazil's Big Mac Index becomes more competitive. Something similar has happened in Argentina, where the Big Mac is part of the CPI and is much cheaper relative to competitors and other McDonald's items, apparently because of government intervention."
A wilting experience
A reader writes: "The Nosh flyer shows a huge big bunch of eight peonies, beautifully packaged in brown paper and interspersed with greenery for $14.99.
Last week, I rushed excitedly to Nosh to purchase, only to be presented with three flowers in a rubber band."
A leak's a leak, regardless of age
John Griffin from St Heliers writes: "After years of high water bills blamed on thoughtless teenagers, I contacted Watercare to ask them about an extortionate water bill of around $500 a quarter for a family of three. They advised that I possibly had a leak somewhere, and suggested that I test by monitoring the roadside meter while no water was being consumed. I followed Watercare's directions and identified that a leak exists somewhere under my neighbour's very verdant garden. I then contacted a plumber and filled out the leak rebate form and sent it off. Watercare has considered the leak rebate application and advised that my 52,560-litres-a-year leak is not considered to be a leak by Watercare because it hasn't shown up as increased usage on my account in the past 12 months. It appears that 'Official Watercare Leaks' only exist within a 12-month period. My leak, however, is a mature leak, not a young leak, and on this basis they have determined that a leak rebate is not applicable. Rodney Hide's monster creation working as designed!"