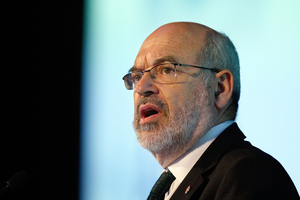 A panel of 11 researchers and young scientists has been appointed to identify the biggest science challenges facing the country.
The panel will be chaired by the Prime Minister's chief science adviser Sir Peter Gluckman.
Science and Innovation Minister Steven Joyce said the group would identify the top science challenges New Zealand needs to solve over the next five to ten years.
The Government has set aside $60 million funding from last year's Budget for new investment into the National Science Challenges.
Members who have been appointed to the panel are:
* Professor William Denny (who leads the Medicinal Chemistry Group at the Auckland Cancer Society Research Centre);
* Dr Ian Ferguson (Departmental Science Adviser for the Ministry for Primary Industries/Chief Scientist of Plant and Food Research);
* Professor Peter Hunter (Professor of Engineering Science and Director of the Bioengineering Institute at the University of Auckland, and Director of Computational Physiology at Oxford University);
* Professor Mary O'Kane (NSW Chief Scientist and Engineer, Australia);
* Professor Jacqueline Rowarth (Professor of Agribusiness at the University of Waikato);
* Professor Richie Poulton (Director of the Dunedin Multidisciplinary Health and Development Research Unit, Otago University);
* Charles Royal (Member of MBIE Science Board; Former Director of Graduate Studies and Research at Te Wananga o-Raukawa, Otaki);
* Professor David Penman (Consultant, previously Assistant Pro Vice Chancellor Research, Lincoln University);
* Elf Eldridge (PhD student at the MacDiarmid Institute); and
* Rachael Wiltshire (2012 Dux of Samuel Marsden Collegiate, Wellington and a 2012 Royal Society of New Zealand science prize winner).
The panel will meet later this month to consider the challenge proposals and make recommendations on a number of challenges. Cabinet was expected to make a decision on the final challenges in April.
- APNZ