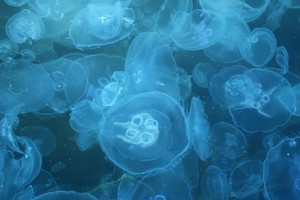 Increasingly frequent swarms of jellyfish worldwide have caused horror among beach-lovers and concern among scientists who see their population explosion as a sign of unhealthy oceans.
Research led by Rob Condon of the Virginia Institute of Marine Science suggests the invertebrates are devouring huge quantities of plankton, depriving small fish of the food they need.
The eating of so much plankton is destroying one step on the food chain.
"This restricts the transfer of energy up the food chain because jellyfish are not readily consumed by other predators," said Condon.
The increase in jellyfish numbers has been attributed to factors including climate change, over-fishing and the runoff of agricultural fertilisers.
The rise in sea temperature and the elimination of predators such as sharks and tuna has made conditions ideal, and "blooms" - when populations explode in great swarms - are being reported in ever-increasing size and frequency.
His study also found that the rise in jellyfish numbers could be adding to global warming. The problem relates to marine bacteria, which play an important role by recycling nutrients created by decaying organisms back into the food web.
When most fish die they are broken down by bacteria which absorb the constituent carbon, nitrogen, phosphorus and other chemicals. But when jellyfish die they break down into biomass which has especially high levels of carbon.
The bacteria cannot absorb it well and, instead of using it to grow, breathe it out as carbon dioxide. This means more of the gas is released into the atmosphere.
The blooms, Condon said, are therefore not only pushing food energy away from fish and shellfish that humans like to eat, but also fundamentally changing the ecosystems for the worse.
- OBSERVER