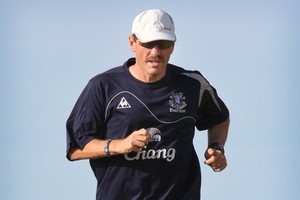 A runner who says he is "on the larger side" was insulted by the announcer of a fun run, who said he was not a "real runner" because he was too big.
Mike Morgan won the annual 7.5km Point to Pub fun run in Howick on Saturday. However, he was insulted when the man who finished three minutes after him was announced by Phil Dark as the "first real runner".
The route from Musick Point to the Prospect of Howick ends at the start of the Howick Santa Parade. Announcers comment on the race and parade.
Mr Morgan is the first to admit he is "on the larger" side - he is 48 years old, weighs about 96kg and is a little taller than 6ft (1.83m) - but felt insulted by the comments.
"I run 5km about six times a week and I'm completely dedicated to it. I'm a runner through-and-through. What right does the announcer have to say I'm not a 'real runner'? I train just as hard as any 75kg runner."
Mr Dark, from Howick Village Radio, stands behind his comment because he "doesn't look fit enough to be the first runner".
He said he did not mean to upset Mr Morgan and apologises if he caused offence. "It was a throw-away comment ... but he certainly doesn't look like an elite runner, I stand by that."
However, he does not take the harsh words back. "I call it as I see it."
Fun run organiser Barry O'Shaughnessy from the Prospect of Howick laughed when told of the comments.
"It's a fun run. I didn't hear it. I don't know anything about it so I've got no comment to make on it."
Mr Morgan said the whole incident was "a bit destroying".
"Running is not a beauty pageant or fashion show. Those of us who achieve a modicum of success, despite our anatomical issues, have to train and race really hard. Is this the birth of a new form of discrimination?"
Mr Morgan did not even realise he had won the race because the man in front of him fell and was taken to hospital. "When I heard I won because the other guy got taken to hospital it already felt like a hollow victory ...
"Then I heard the announcer a couple of minutes later say, 'And here comes the first real runner'."
He went up to Mr Dark and asked what he meant by that comment because he felt it implied he had not run the race properly, Mr Morgan said.
"He told me he said it because I didn't look like a runner. All I wanted was an apology, but I didn't even get that so I just walked off."
To top it all off, when race officials announced the runners who placed in the fun run, they did not know Mr Morgan's name.