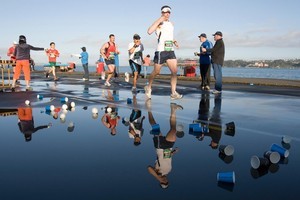 It's the iconic event of the running calendar and tomorrow morning more than 14,000 runners hit the streets of Auckland in the most popular marathon and half marathon in the country.
The adidas Auckland half marathon received unprecedented interest in 2010 with entries selling out in less than six weeks - one month faster than in 2009.
The field size for the marathon and half marathon was increased from 9000 to 10,000 entrants to meet the demand from runners.
The marathon has reached capacity with 2700 runners lining up for the full 42.2km.
"The field limit for the half marathon reached capacity more than 5 months before race day," said managing director Stephen Brown.
"The level of interest once again has been unprecedented for a major running event in New Zealand and testament to the high quality of the adidas Auckland Marathon event."
This year's marathon is also the Athletics New Zealand National Marathon Championships and University Sport Marathon Championships.
"The interest from both male and female elite New Zealand marathoners is very strong and promises to be the best fields yet."
One of the stars of the men's marathon field Dale Warrander, who finished runner-up to Matt Smith in the half marathon last year, is looking to break his own record in the marathon of 2:17.43 set in 2006.
"If conditions are good on the morning I would like to run under 2.17, but conditions have to be bang on," said Warrander the 2004 and 2006 Marathon Champion. "The Auckland marathon has a great atmosphere with lots of home town crowd support along the course.
"It's always nice putting in a solid performance on home soil."
Also looking for a good performance in front of his friends and family is the 2003 marathon champion Scott Winton. "I know it will be a strong field, especially with Dale in such good shape, but I'll be aiming to win it," said Winton the 2006 half marathon champion.
"Despite some illness and injury this year I've done some solid training and the marathon is always an unpredictable event. I really love this race. Running over the harbour bridge is outstanding as is winding your way back along the waterfront with the city scape in the background ... It helps you forget you've just run something like 40km."
Add in the 2008 champion Ben Ruthe who up for the challenge.
"I like the battle of competition, it is what makes me lift my game to my limit," said Ruthe. "I am looking for a good battle in Auckland.
"I have been lucky to have a couple of great duels in Auckland, first with Matt Smith and then with Steve O'Callaghan.
"Looking at the line up this year with Warrander, [Sam] Dobson and Winton we have all had some great battles in the past so this year should be no exception."
Another who has plenty to prove is the four time Auckland marathon champion (1996, 97, 99 and 2005) Phil Costley. "In my last marathon outing an injury forced me to walk the second half and finish in 4h30m," said Costley. "This race is about erasing that memory and with four wins from four starts in the Auckland event I am set to become a roadster in the marathon."
The women's field showcases three elite athletes in Ady Ngawati, Eliza Mayger and Shireen Crumpton.
Ngawati, the 2007 and 2008 marathon champion and record holder, is also looking to break her course record of 2:46.47 she set in 2008.
"My main goal for this year is to try and achieve a 2:45 hour marathon," she said.
"It is fantastic to be able to run across the Auckland Harbour Bridge - I think that this is a must for everyone to do once in a lifetime."
Crumpton, the 2005 and 2009 half marathon champion and record holder, makes her debut in the marathon at Auckland. "I was entered in 2008 but unfortunately unable to compete as my husband died of cancer that day," said Crumpton. "So I guess you could say I have bitter sweet memories.
"I'm hoping to win and retain my New Zealand marathon title. I'd like to post a respectable time - sub 2:40 if conditions are favourable."
For Richard Lindroos, the race Director of the event, there are a number of reasons why the adidas Auckland marathon and half marathon are special.
"It's a big event that bring all of the communities together and that is very unique for Auckland," he said.
Spare a thought for the course director Chayne Zinsli who has the unenviable task of co-ordinating the chaos. "In terms of planning and implementation, there is unlikely to be a more demanding road course in New Zealand," said Zinsli.
"We traverse quiet urban streets, major arterial routes, a State Highway, and the Auckland Harbour Bridge - all within New Zealand's largest city. It is great to showcase what Auckland is all about to thousands of international visitors," continued Lindroos.
Over $2 million will be spent on accommodation by those attending the event with 20 per cent of the entries from outside Auckland including more than 1000 from overseas.
Brown believed that the international component will continue to grow with support from Auckland City and Tourism New Zealand who actively market in Japan and will target North America in 2011.
Lindroos said that runners of all abilities, the elite and recreational, have their own goals for tomorrow but have the common bond of prolonged preparation.
"It is not something you can just turn up to on the day and run - it takes a commitment of time and training from when you sign up in April. It is a spectacular course and it embodies that great feeling of being fit and pushing yourself."
The course has had IAAF certification since 2006, but it's the same course, that begins at King Edward Parade in Devonport across the harbour bridge and finishes at Victoria Park in Auckland City.
Entries are still available in the quarter marathon, 5km run and walk and Kids marathon events.
Marathon record (current course)
Men: Dale Warrander 2:17.43 (2006)
Women: Ady Ngawati 2:46.47 (2008)
Marathon record (old course pre-2000)
Men: Phil Costley 2:14:03 (1997)
Women: Gabrielle O'Rourke 2:38:47 (1999)
Half marathon record (current course)
Men: Warrander 1:02:51 (2005)
Women: Shireen Crumpton 1:15:58 (2009)
Half marathon record (old course)
Men: Robbie Johnston 1:05:45 (1998)
Women: Japan's Yukiko Okamoto 1:11:02 (1995)
Quarter marathon record (not IAAF certified)
Men: Brett Tingay 32:14 (2009)
Women: Fiona Crombie 36:56 (2008)
NZ men's marathon records:
1 Rod Dixon 2h 8m 59s - New York 1983
2 Paul Ballinger 2h 10m 15s - Fukuoka 1982
3 Dick Quax 2h 10m 47s - Eugene 1980
4 Rex Wilson 2h 10m 48s - Chicago 1990
5 Sean Wade 2h 10m 59s - Houston 1996
6 John Campbell 2h 11m 4s - Boston 1990
7 Jack Foster 2h 11m 19s - Christchurch 1974
8 Derek Froude 2h 11m 25s - New York
9 Kevin Ryan 2h 11m 43s - Boston 1978
10 Dave McKenzie 2h 12m 26s - Fukuoka 1967
11 Trevor Wright 2h 12m 29s - London 1983
12 Peter Renner 2h 12m 35s - Sacramento 1990
13 Dale Warrander 2h 12m 58s - Fukuoka 2004
14 Terry Manners 2h 12m 59s - Christchurch 1974
15 Jonathan Wyatt 2h 13m 0s - Hamburg 2003