With just two months until the Auckland Marathon, Phil Taylor offers advice for those taking on the half marathon and 10km events.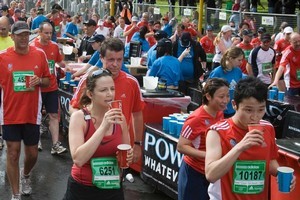 In endurance sport, the better your preparation, the better the result.
Our best woman marathon runner, Kimberley Smith, runs twice a day and clocks up 160km a week. Ditto Dick Quax, an Olympic silver medallist and world record-holder. He was knocking out the ton as a 16-year-old Hamilton schoolboy. Quax would help his dad with the early morning milking shift on the family farm and was free to run after school while his brother helped with the afternoon milking.
But don't be discouraged. You can meet your running goals in this year's Auckland Marathon on October 31 and not have it take over your life.
It is possible to do a respectable half marathon averaging no more than an hour's training a day.
That's not to say you should run exactly an hour a day and nor should you run the same speed each day. That can make you a one-pace plodder.
Adapt the accompanying schedule to suit - you will know whether you are in shape to do more or less - but try to retain the mix of runs.
It is based on one long run and one moderately long run each week, with the other runs varying in length and pace.
The longest run is the most important so if you can't do it on the scheduled day do it instead of one of the shorter runs.
But remember, regularity is the key. Two big runs a week is not as good as one big run and four short ones.
One run a week should include short periods of running at a pace faster than you will run the race.
This run starts with a 15-minute jog to warm up and finishes with the same length warm down. The rest is made up of either three efforts of five minutes interspersed with a very easy recovery jog (walk if you have to) or six times two minutes.
Hard sessions should be followed by a recovery day of an easy jog or day off.
If your day is just too hectic or you feel exhausted, miss the scheduled run. But sometimes the lethargy is mental, so try this - head out on your scheduled run and if you still feel lousy after 15 minutes walk home.
Technique
Think about your posture. Good runners run tall with their hips forward and chest up. This helps you run light on your feet. Imagine someone is trying to poke you in the butt with a broomstick handle and you are trying to keep clear by moving your hips forward.
The position you don't want (but which is common among beginners) is referred to as "running in a bucket", where your hips are slumped and your butt back.
The good news is long slow runs are best for improving metabolism and prompting your body to burn fat. Make your training a habit and you should lose fat especially if you eat sensibly.
Diet
Use your common sense. You don't have to cut out what you love but go easy. Those pies really do weigh you down.
Fruits, vegetables, lean meats - the less processed your food is the better. Don't underdo the protein (lean red meats, fish, chicken, leafy vegetables) as that's what runs your immune system which fights the bugs and repairs the wear and tear of training on your muscles.
Leading up to the race
Cut your training back by 30 to 40 per cent, so if your longest run was two hours, make your last one a week before the race about 80 minutes. The subsequent runs should be light jogs of about 30 minutes. Make sure you get a good sleep two nights before the race as pre-race anxiety can spoil your sleep on the eve of the event. Eat a light meal of carbohydrates, the body's fuel. Pasta and salad is a good option.
* On the web:
halhigdon.com has good training guides for a range of abilities and ambitions
coolrunning.com lists upcoming events
Training schedule: half marathon or 10km event
* Sunday: Long run, slow easy pace (half-marathoners aim for 90 minutes, 10k runners 60 minutes). Add five minutes each week
* Monday: Recovery - walk, swim or bike
* Tuesday: 40 minutes, varied pace
* Wednesday: 75 minutes, moderate
* Thursday: 30 minutes, easy
* Friday: Rest
* Saturday: 15-minute jog warm up. Three times five-minute time trial with five-minute walk/jog recovery between each
Race day tips
Breakfast
Eat light (cereal or a slice of toast and honey and a cup of tea is plenty) no less than 90 minutes before the start to give your body time to break it down. The last thing you want is to race with a busy stomach.
Lubrication
Vaseline. Don't be shy. Slap it on your inner thighs, underarms and nipples. Chaffing hurts like hell and bloodstains will spoil the look of your race singlet.
Evacuation
You don't want to carry anything you don't have to during the race. Give yourself plenty of time to go to the loo and to get to the start line. Sounds obvious but hundreds of people with the same thing in mind at the same time can make it tricky and you don't want to be caught short. Take it from someone who got a nasty surprise when the start gun for the Sydney Half Marathon fired while I was seated in a Port-a-Loo. No personal best time for me in that day.
Relaxation
Stick to your plan and resist the urge to go too fast early on when the occasion will make it feel easy.
Hydration
A few sips of water at one or two of the aid stations is all you will need for the half marathon; less or none for the 10km. If you want to take a gel energy shot (such as Leppin) during the half marathon, make sure you have used them during your long training runs. Walk while you take it or risk getting the sticky mixture all over your chops and hands.
Or ...
If the Auckland Marathon is too soon, too asphalt, too urban, or not quite scenic enough, you could always aim at The Dual in late March. That's the run (with accompanying mountainbike races) traversing the connected Hauraki Gulf islands of Motutapu and Rangitoto. The event began in 2009 as a fund-raiser for the Motutapu Restoration trust and this year attracted 800 entrants.
Next year's offers a 42km marathon trail/off-road run, a 21km half marathon trail/off-road run or walk or a 10km run or walk. For mountainbikers, there are 50km and 30km races on roads and trails which are out of bounds to cyclists during the rest of the year.
Online entry to the March 26 event has just opened and comes with a ferry ticket to the start and finish line at Motutapu's Home Bay. Go to: thedual.co.nz