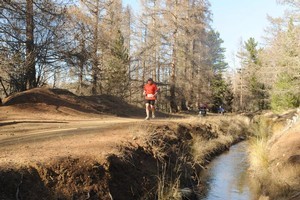 At 6 this morning in the pre-dawn gloom of Naseby, a select group of "bloody mad" athletes get ready for a 100km run.
It takes a certain type of personality to endure 100km and the Great Naseby Water Race in Central Otago is a special event.
The elite competition heads through the forest and parallels a water race built to supply the goldfields of the 1870s.
Four races are on offer for the athletes who have made their way to New Zealand's highest town (609m in altitude), the 50km, 60km (a two-person team event), 80km and the main event, the 100km.
The athletes are expected to complete 100km in about 9 hours and everyone else in up to 13 hours.
Ultramarathon runners share a common bond.
"We are unbelievably stubborn," said lawyer and New Zealand ultra-distance representative Vivian Cheng in a raspy voice.
Cheng has suffered from laryngitis in her preparation for today's 80km run but that hasn't stopped her running 25km every morning.
"I am not a natural athlete but ... if I say I am going to do something then I am bloody well going to do it."
"A lot of people tell me I am nuts," said baker Greg Hannah, a New Zealand rep from Dunedin who makes his debut in the Great Naseby.
"They are probably right ... it does take a certain outlook on life to run 100km."
Event organiser Jamie Sinclair, a co-creator of the Great Naseby Water Race alongside his good mate, Jim Kerse, is passionate about his sport.
"There is great support in the community of ultra-distance runners because we know the pain and commitment everyone has put in," said Sinclair, a 55-year-old fireman.
Sinclair holds the record for the Masters Men with a 12hr 7min 46sec finish in 2008 for the 100km endurance race.
"We all know that we are bloody mad," laughed Sinclair.
"It can't be too bad because they keep coming back."
Cheng, who completed the 50km race last year, is back for more as she and fellow New Zealand reps Matt Bixley and Hannah prepare for the 24 Hour Relay race, to be held at Sovereign Stadium in Auckland on October 2.
Hannah, who hasn't competed in a 100km race in more than two years, admits he goes into the unknown today. He has never run the Great Naseby trail and is unsure how the altitude will affect his run.
"You never know what is going to happen over 100km, so it's exciting," said Hannah, a 41-year-old father of two. "I have been doing around 200km of running every week in my peak training to get ready."
Bixley, who will represent New Zealand in the world championships of the 24 Hour Race in Switzerland next year, is looking forward to the competition.
The 38-year-old father of two has been running about 120km on hills per week and is the New Zealand champion for the 24-hour race.
He regards Hannah as the favourite. "He is pretty fit and I reckon he'll smash the course record.
"It should be a good battle and I am looking forward to a beer with him afterwards because I have been dry for five weeks.
"The record for the 100km at Naseby is 9hr 15min, so that is in the back of my mind - you always want to have a crack at the record."
Cheng, however, is not looking to break any records. The New Zealand rep is treating the 80km run as training for the Auckland event.
"Eighty kilometres is a really nice distance for me. It is a good challenge and it's not too far that it takes a long time to recover," said the 32-year-old. Cheng did the 50km race last year because she was preparing to represent New Zealand in the Commonwealth 24 Hour Race in England alongside Val Muskett, Lisa Tamati and Alex McKenzie.
"That was fantastic," said Cheng, who aimed to complete today's 80km in 8 hours.
"I feel like my best is yet to come - most ultramarathon runners peak in their 40s as they have a good build up on stamina and also mental hardness behind them."
Bixley shares similar thoughts. Representing New Zealand last year at the 24 Hour World Championship in France was humbling, he said.
"That was a lifetime dream come true."
Bixley, Hannah and Cheng will make event co-creator Kerse proud today. He completed the Western States 160km race in 1972 and was a pioneer of ultramarathon running in New Zealand.
"He was wearing a cotton T-shirt and shorts and none of the fancy high-tech shoes of today ... and got it done by sheer guts," said Sinclair.
The Naseby event has grown in popularity in a short time: 14 athletes raced in the opening year in 2006 and today there are more than 50 in the field.
Great Naseby Water Race
* The Great Naseby offers four endurance races: the 50km, 60km (a two-person team event), 80km and the main event, the 100km.
* Fourteen athletes raced in the opening year in 2006 and today the field has more than 50.
* Vivian Cheng, Matt Bixley and Greg Hannah are using the Naseby to prepare for the 24 Hour Relay race to be staged at Sovereign Stadium in Auckland on October 2.