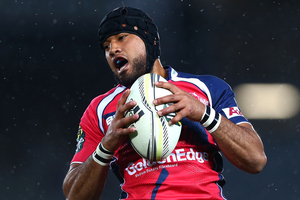 Tasman prop Siua Halanukonuka's first try in the ITM Cup has proven to be a valuable one.
The burly prop crashed through from close range in the dying stages as the Makos edged Waikato 23-16 in Nelson tonight in a game that was played with plenty of energy at a high-octane pace.
The result was damaging for Waikato who dipped to their third defeat in five games and they will need to find their stride quickly if they want to push for the Premiership playoffs.
Tasman have made a good start to the year as a Premiership side after earning promotion, although their first two victories came against Championship opposition before they were held to a 16-16 draw by Auckland last week.
They shot out to a handy early lead tonight via try from flying fullback Robbie Malneek and they should have pushed that lead out further during the first half but their desire to push passes that weren't on became a noted Achilles heel.
But while their hands failed them, Tasman first-five Marty Banks continued to tick the scoreboard over with his reliable right boot as they went to the break with a 16-3 advantage.
Veteran halfback Jimmy Cowan continued to show there is still life left in his legs as he provided a steady hand during his stint on the field, while Tasman flanker Shane Christie leads from the front with his tireless work ethic.
But whatever was in the water on offer at the interval, it temporarily sucked the life out of a Tasman side who lost their direction and ability to hold on to the ball during the second spell.
Waikato slowly eroded the deficit in front of them as they grew in confidence and Tasman did their best to lose the game by continuing to force offloads and passes that weren't on.
Tasman are a side who like to throw the ball around and use the width of the paddock but Waikato's improved defence was tricky to break through.
With only a few minutes left it looked like Tasman would pick up their second-straight draw but their final drive to the line showed what they could do when the secure the ball.
They showed impressive patience during the final moments and were eventually rewarded as Halanukonuka burrowed over and celebrated in due style.
The Mooloos brought plenty of endeavour to Trafalgar Park and they didn't die wondering but eventually it was Tasman who were able to find a killer blow.
The result pushed Tasman firmly in to playoff contention and they will host Taranaki in Nelson next week, while Waikato have a home outing against Counties Manukau in the next round.
Impatience is a virtue: Has a rugby team ever pushed more passes that didn't need to be thrown than Tasman? Their coaching duo of Kieran Keane and Leon MacDonald must have been tearing their hair out here.
Thanks for coming back: Fullback Robbie Malneek returned to the ITM Cup with a bang for Tasman. His scything runs were a catalyst for the Mako's victory.
Tasman 23 (Robbie Malneek, Siua Halanukonuka tries; Marty Banks 3 pen, 2 con)
Waikato 16 (Declan O'Donnell try; Damian McKenzie 3 pen, con) halftime: 16-3
- APNZ