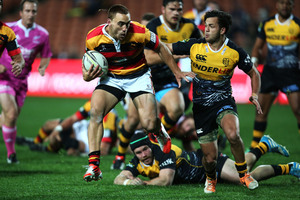 North Harbour 16
Waikato 22
Waikato won an ugly, but priceless victory just three days after Taranaki wiped the mat with them.
On a bitterly cold and wet Albany evening, before around 2000 hardy souls (that's if the hospitality boxes were full), the Mooloos condemned North Harbour to their third-straight defeat. But it was a close-run thing.
The rugby was of mixed quality, to be kind, and there was little to warm up the crowd.
North Harbour started to hammer the Waikato line late, turning down at least two shots at goal while they worked the fringes. Replacement Daniel Halangahu was held up over the line.
There was plenty of early urgency from North Harbour, and wing Tevita Li used Waikato halfback Brad Weber as roadkill on one charge. That set the scene for the opening try, made and finished by wing David Raikuna, but only after Waikato No15 Albert Nikoro had made a right meal of a grubber reception.
Blindside flanker (then No 8) Jordan Manihera rolled his sleeves up and hooked into his work both in the lineouts, where he was often the go-to option, and in the rucks and mauls, where he made a nuisance of himself.
North Harbour generally showed good line speed on defence, but copped the whistle of referee Glen Jackson for their over-eagerness, and occasionally lost possession when in promising attacking situations.
Waikato No 10 Damian McKenzie gratefully banged over four penalty goals in the first spell. He did some sterling deeds in June on this ground for the New Zealand Under-20s and once again stamped his mark on proceedings, belying his 19 years.
Two of his national team-mates - Hame Faiva and Anton Lienert-Brown - were also in the Waikato side.
Prop Ben Tameifuna also stamped his mark, barrelling over near the posts just before halftime to give the visitors a nine-point cushion and threw his weight, if not always his arms, into his tackling. He was sinbinned for cynical play with nine minutes to play.
North Harbour coach Steve Jackson was overheating in the coaches' box, with good reason. He had seen his side compete strongly and not even be in bonus-point range by oranges.
The home side started the second 40 with vigour, but had little to show for it barring penalty goals from Matt McGahan before he was subbed. Their kick-chase game was ragged, and here captain Bryn Hall was at fault, while Waikato stayed staunch on defence and at the set-piece.
But they, too, were not immune to unforced errors as the pressure mounted and rain strengthened.
Some of North Harbour's errors and execution were of the basic variety. Pita Ahki and Li were both guilty of ropey kicks in their own 25m zone.
Waikato's next assignment will be an exacting one, travelling to Nelson for a Friday night Premiership fixture against Tasman, and North Harbour head to Rotorua on Sunday to face Bay of Plenty.
North Harbour 16 (D. Raikuna try; M. McGahan con, 3 pens) Waikato 22 (B. Tameifuna try; D. McKenzie con, 5 pens). Halftime: 10-19.