Telemovie of All Black 2011 World Cup success reveals several areas where national body is dropping the ball.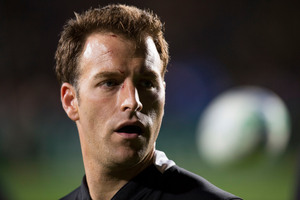 Whether you found it heart-warming or cringeworthy, The Kick - New Zealand's telemovie event of the year - provided some genuinely good insight into life on the fringes of the All Black squad.
As well as touching on universal themes of getting up when you get knocked down and redemption, it had some great life lessons that will appeal to everyday Kiwis -- like if you apply yourself and work really hard, the rewards will come. And if that fails, just sit at home, drink beer and play video games and wait for everyone else to fall over.
There are plenty of lessons the New Zealand Rugby Union can take from the dramatic retelling of one All Black's selection battle. Stephen Donald's journey from national pariah to national hero highlighted several areas where the national body are dropping the ball, so to speak.
* A full-scale inquiry needs to be launched into nepotism in junior rugby grades. How many talented kids have been lost to the game because they were overlooked for selection in favour of the coach's son? My guess is Brian from Waiuku is just the tip of the iceberg.
* The NZRU should appoint someone to return sponsored cars so the player doesn't have to suffer the indignity of having to hand back the keys and make awkward small talk with Murray from the local dealership. And perhaps a parachute clause should be introduced. Players can't go from driving a Ford Territory to walking home; they should at least be issued with a HOP card.
* All Blacks should not have cooking facilities in their room. It was alarming to discover the team's 2011 campaign was almost derailed by Piri Weepu's in-room whitebait fry-up.
* In addition, if players are in the habit of hosting wood-fire pizza parties it would be prudent for them all to do food safety courses.
* There needs to be a crackdown on players endorsing equestrian fundraising activities. This does not fit with the NZRU philosophy of no other sports matter but rugby.
* During World Cups there should be a train-on squad just in case any late replacements are needed. This squad should include three back-ups in each position. While the fitness-cram montages formed a great part of the story, it would have been less stressful on Graham Henry if he had well-conditioned athletes on standby.
* Stephen Donald was let down by the lack of jersey size selection. Like the old mantra goes -- if you look good, you feel good, if you feel good, you do good. Who knows, if Donald wasn't having to worry about muffin-top exposure, that kick may have sailed straight through the uprights rather than sneak inside the post, making for a more fitting narrative.
* Only Richie McCaw should be able to play Richie McCaw. We've all seen him on the Mastercard ads -- you can't teach that sort of comic timing.
For more coverage of The Kick go here.