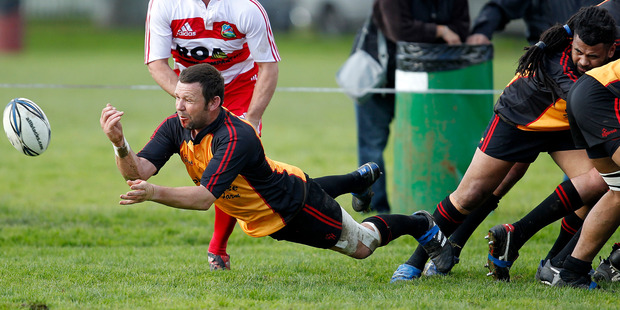 The Swamp Foxes are amped for their first tilt at the Ranfurly Shield since 2007 and their 14th since 1951.
Thames Valley are coming off a solid 19-12 win over the Cook Islands on June 16 and will leave nothing out on the track against their more vaunted neighbours Counties Manukau in Pukekohe tomorrow night.
"The guys are really excited. We've had a group of about 35 and everyone was super-keen to make the squad for the challenge," said Thames Valley coach and former flanker Hayden Roe.
The weather forecast is dire so that may aid Thames Valley's game plan, though Roe was hoping for a dry, fast track "for the spectators".
The Swamp Foxes, who lost 69-0 to North Harbour in their last crack, have just one player remaining from that game - first five and the province's all-time leading scorer David Harrison - but have a mix of youth and experience, led by lock Brett Ranga. Halfback Aaron McDonald is pushing 42 and a century of games, and indeed played in the 1999 Shield challenge against Waikato.
Wing Watisoni Lotawa appeared in Ranfurly Shield games for Auckland in 2008, while Lance Easton has played for the Steelers.
Frank Bunce is in the unusual situation of being assistant coach of a province (Thames Valley) and also 2-I-C of an Auckland club side (Manukau). He has brought down one of his club charges, 136kg tighthead prop Eva Taumalolo, nephew of former Chief Sona Taumalolo. Teenage first five Josh Turner, who scored a fine solo try against the Cooks, is likely to be injected off the bench.
Bunce will get to say hello to his old All Black teammate, Steelers coach Tana Umaga, who has rewarded club form in a new-look squad minus Super Rugby players and the likes of rehabbing flanker Adam Cathcart. Counties Manukau have had runs against the Harlequins, Samoan Under-20s and North Harbour.
"We know the history of Thames Valley. We were surprised they hadn't challenged for the Shield more recently, but we are pretty close as unions," said Umaga. "There wasn't really any question as to who would get the first challenge [of 2014]."
The onus will be on players such as halfback Kane Hancy, big loose forward Maama Vaipulu and lock Ronald Raaymakers to lead the way for the home side.
Former Auckland loosie Onosa'i Auva'a will lend extra experience to the pack, while the mercurial Ahsee Tuala, normally a fullback or wing, will turn out at No10, where he has impressed for his Manurewa club.
Thames Valley have beaten Auckland and Australia, among others, in their 92-year history, but victory here, though highly unlikely, would top those feats.
Ranfurly Shield
Counties Manukau Steelers v Thames Valley
ECOLight Stadium, Pukekohe, 6pm tomorrow
The Steelers' Shield tenure 2013-
beat Taranaki 44-7
beat Waikato 37-25
beat Southland 25-7