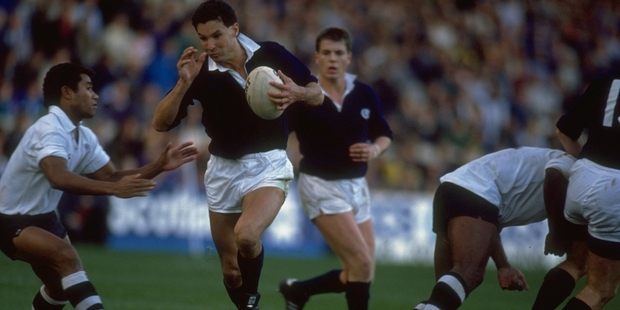 One of Counties' favourite rugby sons of the 1980s is back on his old South Auckland stomping ground and hoping to put a few dents in New Zealand's armour tonight.
Sean Lineen played 64 rep games as a midfielder from 1983-88. Highlights included matches against the 1983 Lions and 1984 French and Counties club titles with Bombay and Papakura.
Lineen then headed north where he became one of the first "Kilted Kiwis", playing 29 tests for Scotland and scoring a try against the 1990 All Blacks. Now he is coach of the Scotland Under-20s who face New Zealand tonight.
The 52-year-old has enjoyed catching up with family and old teammates. His father Terry, a former All Black, now 78, is still an astute rugby observer. "He still loves his rugby, watches all the games on TV, gives me advice and he's spot-on," said Lineen.
Scotland has fittingly trained at Marist's home ground, Lineen senior's old club.
Lineen recalls well the famous slanted players' tunnel at the Pukekohe stadium. That is still a feature, though the ground carries a new name. He loves the fact the Ranfurly Shield is now part of the furniture.
Memories of playing with the likes of Mark Moore and Te Rau Clarke are still vivid. "Some of those guys haven't changed. They're a bit older, a bit greyer, but still slagging me off," he said.
Lineen's official Scottish Rugby Union hat is that of head of player acquisition. He brought Sean Maitland over to play for the thistle, and will be keeping his eyes wide open for any Scotland-eligible players during this tournament.
"It's more of a role with the age grade sides and getting them to play more meaningful games. We've got some exciting young talent here, like Zander Fagerson, Jamie Ritchie and Rory Hutchinson out of the Under-18s. A lot of them have been hoovered up by the Edinburgh and Glasgow EDGs (Elite Development groups)."
The hope is that Scotland do better than their 2013 JWC placing of 10th, and to have some filter through to the Pro 12 league. It might be too early for any of this group to feature at Rugby World Cup 2015.
Lineen is facilitating visits to places such as Rotorua and Waiheke and he has even converted some of the team to hokey pokey ice cream. On Saturday, they will take in the King's-Auckland Grammar First XV traditional. "They are experiencing a 24-7 rugby culture."