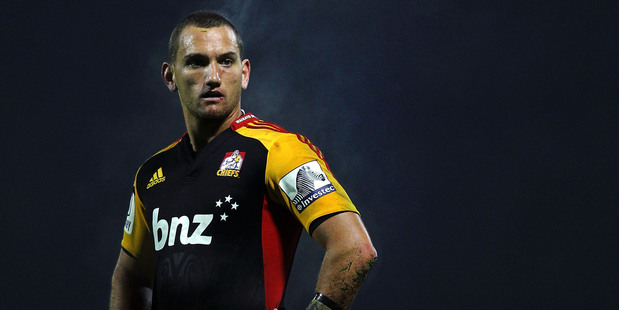 A broken thumb has only diverted Aaron Cruden's competitive instincts. Unable to do much training apart from cycling and goal-kicking practice, the Chiefs five eighths and wife Grace squared off last week in a kitchen contest using produce delivered through the My Food Bag concept.
The result was inevitable, although Cruden felt he brought a lively taste and presentation to his favourite meal, steak wrapped in bacon with mushroom sauce and vegetables.
The 25-year-old has always been an eater - as a 92kg schoolboy he acquired the nickname "Doughnut", but was more a barbecue than kitchen chef.
These days he has trimmed down by 10kg and is much more aware of his diet.
For a man in his mid-twenties who has been a professional rugby player since he left school, Cruden has a range and balance in his life that is not always evident in his peers.
There is no doubt his brush with cancer almost six years ago gave him a different perspective from his contemporaries. Checkups are now annual appointments and there is relief with every clearance.
"When you go through adversity it is good to look back and draw strength from these sort of things," he said at the Chiefs headquarters on the outskirts of Hamilton.
Where possible, Cruden responds to messages and requests from others facing similar health issues. He knows the lift that any support can provide.
It has been that way for the past few weeks at the Chiefs as Cruden has helped out fellow five-eighths Gareth Anscombe and other teammates while on his rehab.
His eye is very much on the rugby diary and his date with the specialist next week when he hopes to have the cast removed from the left thumb he fractured playing against the Cheetahs. If all goes to plan, he hopes to be back in action on May 24 against the Hurricanes.
That would give him a couple of games before the June test series against England.
At the start of the series, Cruden's focus was on the Chiefs, but he admits his injury has altered his thinking.
"I have been thinking a bit about that [England series] and building pictures about it. There will be a great deal of excitement playing England because we have shared our last two tests. They are a side who on their day can roll anyone.
"It will be great to have a three-test series. During that we will each get a strong idea about each other and have to adapt and modify our plans throughout and hope to get a result."
He has been watching his other All Black five eighths, Beauden Barrett, rack up some strong recent work, a good sign for the pair's likely involvement in the series.
Cruden has played 29 tests since his debut in 2010 and his awkward first start against the Wallabies later that year, has won a World Cup and, with Barrett, is putting heat on Carter. One man who has coached and guided Cruden through his start at provincial level with Manawatu and then on to the Chiefs is Dave Rennie. He has seen significant gains in the five eighth's game.
"He was pretty erratic as a goalkicker then, but if you need him to nail a kick now he will do it. He loves that responsibility. His general punting has improved too and when he gets the trajectory right he is kicking longer.
"He has always been a brave defender for a little fella. Everyone tries to go down his channel, but he chops all day and gives our loosies time to get on the ball.
"Ball in hand, he is great in understanding his game and those of his teammates. He is always in a position to run kick or pass, so he is always a threat. He likes to take the line on and create space for others and that is part of his game which has grown."
Ask Rennie whether Cruden always "sees" the field and he produces the frown of a coach who has seen the player try chip kicks from his 22.
"But that is what we love about him, he is always optimistic."
Cruden was a big talker on the field, an extrovert who was a natural in the leadership group. He underlined that in one of his early matches for Manawatu, when they were 38-17 down against Waikato.
"Aaron came off the bench when our boys were under the posts and he began telling them what we were going to do from the kickoff," said Rennie.
"We stormed home and drew 38-all. The older players recognised that input and his clear understanding of how we want to play."
On one of his coaching visits to Murray Mexted's academy at Massey University in 2008, All Black selector Grant Fox knew he'd seen a young man on the rise.
"He was the best five-eighths I have seen since I started taking those courses in 2000," he said.
"His game management ability to steer his team round the park was extra good, and his ability to review his game was sharp. We worked with them during the day and then watched to see if they could put ideas into practice.
"He was obviously the real deal. He was a little fella with a big heart."
In these changing times, rugby players are judged on many criteria. Fitness, skills and temperament come into it, as well as the ability to dissect and analyse their work.
In the Chiefs squad, Cruden is very demanding of others, but is also hard on himself. When he makes a gaffe he raises his hand, and he also challenges teammates about their contributions. It is not a point-scoring exercise, it is a discussion aimed at improving the team.
Cruden and Rennie remain very close, and former All Black coach and first-five Wayne Smith has brought another layer of expertise to help Cruden.
"It is great to bounce ideas off Smithy; he always comes with a different perspective which gets you thinking," said Cruden. "We have not been travelling too well recently so we need to tweak a few things."
While he gets invaluable coaching at work, Cruden loves the contrast of life at home with Grace. She is a relieving secondary school teacher who specialises in physical education
and health.
"She allows me to do what I love and understands the lifestyle of it," he said. "She makes me feel relaxed."
The pair attend yoga classes and have started a surfing interest at Raglan, and Cruden made a Taupo skydive Grace bought him last year during the Chiefs bye week.
They would like to take their shared interest in business and food further, and Cruden is keen to complete some business papers to dovetail with his wife's greater culinary skills.
It's another step on life's ladder, the "get in and get on with it" attitude Cruden has always taken. He remembers how Blues midfield back Benson Stanley sat him on his backside in his first Super rugby match for the Hurricanes.
"That was the welcome mat, but you build, learn and move in the right direction," he said. "They are all experiences, like the World Cup. You have to adapt and think on the spot and soak up everything that happens.
"I am a realist. My first test start did not go the way I wanted it. It was great that we got the victory right at the death but as an individual you want to perform and that game got the better of me.
"I look on that adversity and get strength from it and benefit from it."
The Chiefs are facing that sort of heat now, without Cruden. He promises on their behalf that there is still plenty of fight left in the squad.
Fans expected that, but more importantly the players expected that of themselves.
They are the defending champions. The past month has been difficult and the Chiefs were disappointed they did not take their training ground form into games.
It will not get any easier. They play five local derbies in their next seven games but there is a layer of steel about the Chiefs and their staff.
Rennie was able to count on Cruden to start more than 40 consecutive games for the Chiefs until his broken thumb. Now Cruden is looking to his coach to marshall the side.
"I like the way he approaches players," said Cruden. "There is no nonsense, he gives it to you right between the eyes but it is the way he delivers his messages.
"He understands his players and so does Smithy. They understand the different ways players click. They have even temperaments, but know when to get angry. When they blow their stack it is for good reason and it is effective.
"The coaches also want our feedback because they don't have all the answers.
"Our reviews help them grow as well. It is a two-way street in the Chiefs environment, it is constructive, it is not personal criticism. We use it as fuel and motivation because we are all trying to better each other."