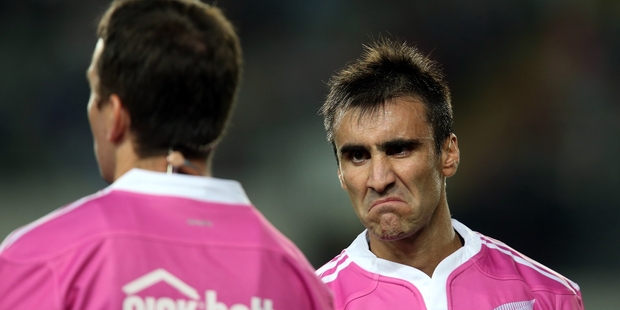 Sanzar's file on referees' bloopers has gone to a new level.
After some outbursts about officials' rulings in the opening month of the Super 15, referees' co-ordinator Lyndon Bray has been swamped by the last round of incompetence.
Which put him in the electric chair after his recent comments about culling some of the poorer referees.
"I would always dispute the argument that there is no accountability or action," Bray said. "There is. I would only say, watch this space."
We did and he came up with a ruling that had more substance than some of those delivered by the referees and TMO, who watch replays and come up with warped theories.
Men impersonating Mr Magoo over the weekend were Stuart Berry, Lourens van der Merwe and Francisco Pastrana. They have been culled, along with Australian Angus Gardner.
This is not a beef about rulings during the run of play. Rugby laws are way too complex and officials have used the advantage law to get more flow into matches.
Scrums are still a complete cow and breakdowns an unmitigated mess where referees have been left to adjudicate on the confusion.
But when tries have been claimed, referees get repeat looks in slo-mo if they are unsure about events.
In Pastrana's chaotic world at Eden Park he asked for the TMO's opinion and then rejected it. Berry delivered successive weeks of imbalance, while van der Merwe seems to be working from an alternate rulebook.
Every referee and his assistants are going to miss incidents and they will suffer when the television lens suggests a different perspective on cases like forward passes.
But when it comes time to turn to the big screen, the only inquiry should be, "Try, no try or can't see?" If the evidence is inconclusive or footage obscured, the referee then has the discretion to make his decision.
To get the sort of pantomime Pastrana offered when he asked for a ruling and then disagreed with the advice, was a nonsense. He needed to be put in the sinbin - and the others, too - for what we hope was just general incompetence.
Refereeing is not for everyone. It is a tough job where one man's vision, with occasional help from his assistants, is pitted against spectators in a 360-degree stadium and a global audience feasting on all sorts of camera angles.
Players test the limits at all times, they work the margins and niggle away at any weakness they think referees exhibit. It is a hard gig but referees know that as they work their way up through the grades.
When they get to the top we expect them to be on the money, or close to it, but Sanzar is not getting a strong enough return on that investment.