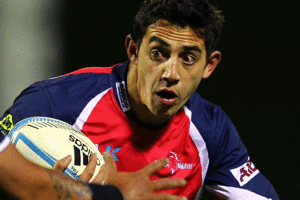 Tasman 49
Southland 28
The Tasman Makos showed their trademark pace and enthusiastic support play to dispatch a rather more leaden-footed Southland in this error-laden Championship semifinal today.
The Makos took a big step towards premiership status but they will have to be more accurate if they make it to the higher division. Southland enjoyed twice the possession and much of the territory and premiership sides will make the Makos pay a much higher toll for that and for errors made.
Southland also reduced their own mistakes, playing tighter finals football, in the second half. They came back from 30-7 down to trail by only nine points before Tasman winger Bryce Heem and replacement fullback Robbie Malneek scored the decisive tries.
The Makos were probably their own worst enemies in the first part of the first spell, their high-octane game invaded by gremlins and maybe semifinal nerves.
Southland had the experience and maybe the power - mostly through No 8 Elliott Dixon and midfielders Willis Halaholo and Cardiff Vaega - but turned over the ball and infringed even more often.
First, Southland first five-eighth Scott Eade executed one of those dinky little kicks that have no place in the game when a side is hot on attack. Eade's attempted piece of delicacy resulted only in planting the ball firmly in the midriff of Tasman loose forward Tevita Kolomatangi who galloped 70m to score.
Then Eade made up for it - claiming a crazily bouncing ball after a kick-through from a sloppy Tasman pass and racing away. That try was potentially even more impactful as Tasman had just had a try to winger Mitchell Scott disallowed for a ruck infringement; the 14-point swing might have derailed a lesser side.
But this Tasman outfit trust their pace, handling and support play and they always looked too quick and too vital for Southland when it came to claiming and running the ball. The major difference was in their loose forward trio of Kolomatangi, No 8 Liam Squire (who embarrassed two Southland tacklers for the Makos' second try) and openside flanker Gary Redmond.
When they weren't scoring tries, they were scoring points in the rucks and mauls, enticing the Stags into numerous penalties which either relieved pressure or usually allowed first five-eighths Marty Banks, who has set all sorts of scoring records this season, to goal. It was 30-7 at halftime after another turnover try - this time a passing error from Eade which saw Tasman fullback James Lowe set Scott away for a 50m try.
Southland turned with a strong wind at their backs in the second half and 21-year-old Eade again atoned. A perfect inside ball from a lineout win saw winger Bryan Milne clear through for a try under the posts and Dixon wrestled over for another as Southland settled into semifinals football.
But yet another turnover saw Heem beat the cover to score and the prolific Malneek was first to a kick that exposed the Southland defence. Though Southland replacement Will Murray scored on debut, the Makos had done enough even before Banks scored their sixth try and his 24th point.
Tasman 49 (T. Kolomatangi, L. Squire, M. Scott, B. Heem, R. Malneek, M. Banks tries; Banks 5 cons, 3 pens)
Southland 28 (S. Eade, B. Milne, E. Dixon, W. Murray tries, Eade 4 cons).
HT: 30-7.