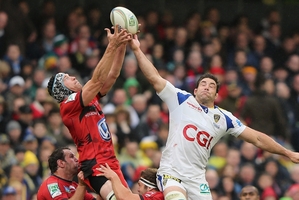 Money and power are at the core of the ructions in European rugby which has seen the Heineken Cup dismantled and set the Celts at war with France and England.
But this tale of greed and control on the other side of the world may yet have implications for New Zealand.
The Heineken Cup has been obliterated just as New Zealand and its Sanzar partners negotiate restructure of Super Rugby.
Such talks have never run smoothly in the past and privately all parties round the table this time are convinced there will be another fall-out.
The usual form on this is for the South Africans - who generate almost half of the total broadcast income attached to the existing deal - to threaten a withdrawal and make noises about running off to Europe. New Zealand and Australia knew the threat wasn't real: the Heineken Cup was locked into its own broadcast and sponsorship commitments and doing fantastically well without South Africa.
All that has changed following the decision by the English and French clubs to resign from the Heineken Cup and create the Rugby Champions Cup.
Invitations to join this new competition - which will run alongside, not instead of, respective domestic leagues - have been extended to clubs from the Aviva Premiership in England, Top 14 in France and Rabodirect12 competition which is made up of Irish, Welsh, Scottish and Italian clubs.
The Celts and Italians don't want in and because this is a tale of greed, it's hardly fanciful that the French and English clubs may ask the South Africans if they want to get involved.
Those behind the Rugby Champions Cup are forecasting revenues in excess of $150 million a season. If the South Africans were to be involved the value could double.
Sanzar chief executive Greg Peters says the situation in Europe is being monitored.
"It hasn't changed the focus, however," he said. Sanzar are ploughing on, hopeful they can reach agreement about what format Super Rugby will take from 2016.
The favoured scenario is that the competition will split into two conferences - a transtasman group and the other made up of South African provinces and two Argentine teams.
The reality is that South Africa don't crave provincial contact with New Zealand - they just want regular tests against the All Blacks.