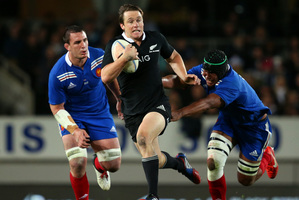 There may be a level of angst about the soon-to-be-vacant centre position when Conrad Smith goes on sabbatical but Ben Smith isn't feeling any undue pressure to be the one to fill it.
The form back of the year so far is being viewed as the heir apparent despite his limited game time in the role either at provincial, Super Rugby or test level.
He last started a game at centre in November last year when he was selected there by the All Blacks but played all of the Highlanders' campaign this year at fullback and his four tests in 2013 have been on the wing.
It might make others edgy about how he might go if asked to move in and play at centre on the end of year tour - but Smith himself is relaxed about it.
"As far as positions go - it doesn't worry me. I actually enjoy playing a few different positions," he says. "They all carry their different challenges and that's one of the things about being versatile [you get to experience the different challenges]."
To those looking in, it appears as if the pieces are all going to fall neatly together for coach Steve Hansen. When Conrad Smith removes himself from the fray in November this year, it is probable that Cory Jane will be match fit and ready to make a test return. The timing would be perfect - Jane resumes his position on the right wing and Ben Smith switches to centre. Maybe that's how it will work - or maybe not.
Smith's best position may, in fact, be on the wing. He brings a similar skill-set to Jane: he's strong in the air - as befitting of someone who has played mostly at fullback - he positions himself well; has a big boot and reads things cleverly so he can use his timing and passing to work others into space rather than necessarily being an out-and-out finisher himself.
Despite Jane's year's of excellence he is likely, when he returns from his knee injury, going to have to prove himself all over again. His form will need to be at or close to his best to persuade the selectors to either push Smith into the midfield or return him to the bench where his versatility is a great asset.
None of this, however, is playing on Smith's mind. All he wants to do during the Rugby Championship is continue to refine his individual work while also further connecting with back three partners Israel Dagg and Julian Savea.
"Making sure we are nailing the opportunities we get in a game," says Smith when asked what priorities the back three took out of the French series. "Looking at areas where we can be more precise I suppose. A back three all fits in together. You have to work as a unit and as a team and I don't think there is too much difference between wing and fullback.
"When it is on we are looking for the option to attack."
And that is what has made Smith so deadly this year. He's picked his moments well with both the Highlanders and the All Blacks. It was his break late in the first half at Eden Park that ignited the first test of the year. He was the man who finally gave the All Blacks direction - turned them from east to west to north to south.
In the second test it was his all-round footballing skills that made the difference - he was accurate under the high ball, covered the ground on defence and smothered the French with the quality of his chasing.
The challenge for the All Black coaches has not been getting him to perform on the field - it has been about getting him to understand when he comes off it, how well he has played. They want him to be confident and certain that he belongs at this level after a few years of being on the periphery.