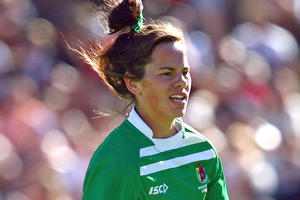 Women's sevens coach Sean Horan has selected 26 players for a high-performance squad that will form the basis of New Zealand's campaigns towards this year's World Cup in Russia and the 2016 Olympics in Brazil.
The squad includes 16-year-olds Gayle Broughton and Michaela Blyde from Taranaki, Hayley Hutana from Manawatu and Ariana Hira-Herangi and Shiray Tane, 17, of Waikato.
The group will assemble for an assessment camp at the Waiouru Military Training Facility this weekend.
"This squad is the result of a very successful Go for Gold recruitment programme which has had fantastic support from provincial unions around the country," Horan said.
It will form the core group for selection of the teams for the remaining two world series tournaments in China (March) and the Netherlands (May), and the World Cup in Moscow in June.
The squad also boasts experience in Selica Winiata, who was the top points scorer at the 2009 sevens World Cup, and the tournament's top try-scorer, Carla Hohepa, as well as their teammates Linda Itunu, Huriana Manuel and Renee Wickliffe.
All five have played for the Black Ferns along with Shakira Baker, Kelly Brazier, Halie Hurring, and Hazel Tubic.
"We have seen sevens grow in popularity in New Zealand through our work with the provincial unions and we believe we have uncovered some fantastic new talent," Horan said. "This weekend camp is the first step to the next phase for these women. The training and preparation will have greater intensity and the players will be asked to step up and work harder."

Sevens squad
Linda Itunu, Huriana Manuel, Kayla McAlister, Tyla Nathan-Wong, Portia Woodman, Olivia Bird, Alexis Tapsell, Ruby Tui, Hazel Tubic, Renee Wickliffe, Shakira Baker, Sarah Goss, Hayley Hutana, Kristina Sue, Selica Winiata, Amanda Rasch, Kelly Brazier, Halie Hurring, Michaela Blyde, Gayle Broughton, Lauren Burgess, Francea Hansen, Ariana Hira-Herangi, Honey Hireme, Carla Hohepa, Shiray Tane
- APNZ