Class of 2013 has chance to transform image of a bunch of underperformers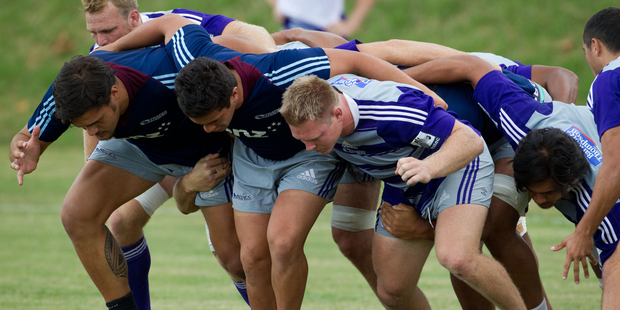 This is it, time to show you are professional and understand the concept.
You have toiled strongly in the buildup and have brought your A-grade fitness levels for the beginning of the Super 15 series.
That's expected.
Now we want to see if you are going to give the series a shake and exhibit the ticker and skill for this competition.
When it's time to fill out your tax returns, will you have an unwavering hand when you write "professional rugby player" in the occupation slot?
Your obligations are to yourself, your teammates, the staff and the franchise.
You are supposed to be the best the Blues can assemble in 2013. We have been told you have delivered in training, trial games and in the classroom.
Demands have come in brutal, crisp messages.
Words like attitude, relentless, defiance, brash and mongrel have peppered the verbal instructions.
Now it's over to you. Have you got the gumption and moxie for this level of rugby?
In the past decade the Blues mutated sadly into an acronym for Bunch of Listless Underperforming Erratic Sportsmen.
This Class of 2013 has the chance to turn that perception around. You may not be household rugby names, but this is your stage to alter what has become an ingrained Blues habit.
JK wants the region to be proud of the Blues and you guys to be the hottest sports ticket in town. That time starts tomorrow at the Cake Tin before you debut next Friday at Eden Park against the Crusaders.
Brave Loyal Unwavering Enterprising Spirits sounds far better, but only if you show high levels of resolve.
When the Blues claimed the first two Super rugby titles they had a swag of superstars.
They also had men like Chris Rose, Andrew Roose, Kevin Nepia, Jason Chandler, Michael Scott, Charles Rackham, John Ngauamo and the late Jarrod Cunningham who did all the training, supported their teammates and filled in when required.
They were as important as a shed full of test players.
This season the roles are reversed. You are a rookie group with a smattering of All Blacks to guide you. What an opportunity.
This is your chance to show the calibre which catapulted Brodie Retallick, Ben Tameifuna, Aaron Smith, Beauden Barrett and Julian Savea into the All Blacks last year after little or no Super rugby experience.
You know how to play this game and your work in the trial matches reinforced your credentials. Several victories and a clean bill of health are strong foundations for your trip to Wellington.
Build on that. Too often, teams over-complicate what can be a puzzling game. Effective and simple should be the Blues buzzwords, coolness under fire the chant.
Break the game down into chunks. Forwards are there to do their core roles, the backs will deliver the gloss and you all have to defend as if Graham Henry is peering over your shoulder.
Each one of you needs to carry JK's spirit with you as well.
Show you care as much as he does about the region and the jersey, show us a hang-tough attitude and the sort of drive which sparked last year's admiration for the Chiefs.
Debate on this article is now closed.

Play Virtual & Fantasy Super Rugby
Test your tipping skills with Virtual or create your dream team with Fantasy Super Rugby and be in to win a slice of over $10,000 in prizes.
Be part of the game and sign up now.