Wynne Gray talks to a not-so-new Blue, a new Blue and a fan to gauge the hopes of expectations of the underachieving franchise as it begins a new era with a new attitude.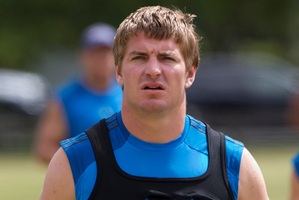 Special report: Rebuilding the Blues
* Kane Barrett
0 Blues caps
Several rugby shocks hit Kane Barrett last year.
The first came as he drove the tractor on the family farm, rotary hoeing grass into a peas crop and thinking about anything but rugby.
"I was just out helping the old man when the call came through. It was John Kirwan and we must have chatted for a couple of minutes," Barrett recalled.
"He offered me a place in the Blues and said to have a think about it over the weekend and get back to him on Monday. I knew my answer before I put the phone down. I was so excited, it was a no-brainer.
"The following Wednesday I was up in Auckland."
That's when Kirwan hit the blindside flanker with his second tremor.
"He told me he wanted someone with the X-factor... and I said I wasn't sure I had that."
"He explained it was all to do with workrate, having a big ticker and keeping on going, giving it some grunt. I felt a bit better then because like my folks, I have inherited their hard work ethic."
His father Kevin Barrett played 167 games for Taranaki until his retirement in 1999 and mum Robyn still milks the cows and runs the household which has also produced All Black and Hurricane Beauden Barrett.
Several months on and the reality of professional rugby has settled well on the rookie's broad shoulders.
Barrett, 22, has gone from living at home, farm work and the part-time world of the ITM Cup to shifting to a flat in Auckland and the all-consuming world of pro rugby from 7.30am until 5.30pm.
"We live and breathe this stuff all day, it is great," he said.
"You get time to practise parts of your game which elude you in the compressed provincial competition."
"We have coaches who are highly skilled and experienced who tutor you and help you understand what they want."
Barrett conceded his callup had been a shock especially as it came not long after the start of last season's ITM Cup. He had only played a few games for Taranaki but they were important matches with a number of senior players unavailable.
He had just got "stuck in".
It's been the same since his Blues callup where he is honing his technical skills and bringing the relentless output Kirwan wants.
Professional rugby has him flatting with teammate Malakai Feketoa, an arrangement which means he cooks most of the time and his teammate does the dishes.
"I don't mind the cooking part, I've always enjoyed that. I can do a good crumbed snapper or roast - I'm not too bad at those," he said.
What about the rugby then?
"First up trial game against the Reds I was blowing out the cobwebs, but the match with the Waratahs was the best I have felt in a long time. It caught me by surprise so all the training must be having some effect."
"You need it because this level rugby is so much faster and you perform better if you are fitter and you recover a lot better, too. The skills have also been coming along gradually."
"The days are full on - it's an early start and then early evening knockoff. But it's great because I'm doing what I want to do."
* Luke Braid
40 Super rugby caps (8 with the Chiefs)
Every area of professional rugby is demanding. The Super 15 gnaws at any weaknesses, the longer the five-month series runs.
Defence defines a side's cohesion and that area has fallen to third year Blues loose forward Luke Braid for his supervision.
He's getting some sage advice from Graham Henry as they work through ideas at training but once the Blues take the field, Braid runs the systems.
"Graham brings all that experience and is able to take us through all the technical details and explain what's working for us and what we need to improve," said Braid.
"Then overall we have JK [John Kirwan] who is jumping out of his skin. He is very enthusiastic, a bit twitchy at times but always encouraging us. We feed off the way he holds himself and speaks to us.
"Players talk about these things and these sorts of issues, we are always picking over it.
"We gauge we are travelling well, there is a good mood and we believe in 'better never stops' which is the motto for this young team."
Braid, 24, has the experience of four seasons of Super rugby and hung on strongly while the Blues crumbled last year. It took some time for the franchise to stem those troubles and begin the rebuild.
"We had to reshape things and JK has been awesome, coming in and getting people enthusiastic again about a whole lot of things.
"He gets people in together and does not mind getting into us either. Ted [Henry] and Mick [Byrne] have all the know-how and it is great to have all those sort of resources.
"We have a stack of young players here and they are just frothing to learn how to play at this level."
The Blues were apprehensive before the first of their three pre-season hit-outs but were all "up" for the match which had not always been the case in previous years.
Braid was blown away at the skills his teammates showed in those matches, players he had come to understand since the Blues assembled but had rarely glimpsed in games.
"A number were new to me and while we made too many errors in those games, some of the things and plays these guys put on were something else," he said.
"We have to use those qualities this season but the priorities remain the same in rugby. The set-piece at scrum and lineout has to be nailed and we have to learn how to get off our goal-line efficiently all the time.
"Everyone in this team wants to express themselves but we have to learn to balance the excitement and optimism with the practical and cautious demands of the game as well. It's not good enough to score great tries and then concede simple ones by our mistakes.
"The hard part will be to suppress that excitement but that will be where the older guys like Ali Williams and Rene Ranger will have to lead the way ..."
Braid was sure the Blues were fitter than previous campaigns. New trainer Wally Rifle had changed their routines but the volume of work had been high.
Trial game form had been encouraging, the players were amped and it was a case of nailing more of that for the beginning against the Hurricanes.
* Haven Crawford
Passionate Blues fan
Cooking is a passion for Haven Crawford and rugby has become one as well for the native Californian.
Not so long ago she was able to combine her twin interests when she put on an American-style barbecue for the Blues.
The feast came about after Crawford went on Twitter last year to make the celebration meal offer when the Blues pulled off one of their rare 2012 victories.
"Cooking is not my job but it's what I love, it is my hobby and my passion," she said. "I show appreciation to people by serving them food."
Rugby began to enter her focus in 2005 as she was about to leave Los Angeles with her Kiwi partner and longtime Blues supporter Jason.
"There were a few colleges playing rugby but that was all I heard about the sport until I came here. Baseball and the LA Dodgers were my sport and I had played softball when I was young."
Settling in West Auckland, Crawford and her partner began to have crowds around to watch rugby on TV. They went to the occasional game live then ramped up their attendance in the past three years.
"I think I couch-coached for some time but we go to Eden Park all the time now."
That must have been tough last year as the Blues disintegrated?
"No not at all. I am a bit of a glass half full kind of person. Jason likes to point out the improvements the Blues need and I like to stay on the positive things. I take most notice of the try-celebrations," she said. "I love the atmosphere, the ambience and what goes on. I have a good handle on it now."
After making her cooking offer to the Blues, the franchise contacted Crawford and booked her to cook them a lunch this season. There was no argument about the menu. Barbecue pork spare ribs with the guest list of 40 the biggest number Crawford had catered for.
"We got it done. I was there with special rib rubs, recipes and a bucket of barbecue sauce. Each batch laid out in a single layer takes about an hour and you have to pay attention to flipping, basting and how the sauce is caramelising.
"It took about four hours for the preparation and cooking but we made it."
The verdict?
"A number went back for seconds and there were a lot of meat-filled smiles and messy handshakes."
The series:
Yesterday: We talked to head coach Sir John Kirwan on the philosophies that drive his thinking.