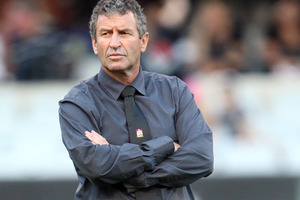 Former All Blacks assistant coach Wayne Smith has turned down the chance to coach the England rugby team, opting to stay in New Zealand.
Smith, who has been the assistant coach for the Waikato-based Chiefs Super Rugby team this season, had been linked to the England backs coach role under head coach Stuart Lancaster, but has decided to stay put.
Lancaster, who is preparing his team for three tests against the Springboks in June, announced overnight that Smith had rejected the opportunity to join his staff in the build-up to the 2015 World Cup for family reasons.
"Wayne Smith rang this morning and he is staying in New Zealand. We had a great meeting in South Africa and he has had a long, hard think. We had a good chat but for family reasons - his parents are close to him and his sons are at university over there - he feels it is best to stay there.
"It is clearly disappointing. There are other coaches out there but in the short term we want to invest our time in working hard to get the South Africa tour party ready,'' the Daily Mail quoted him as saying.
Smith confirmed today that his family and his coaching position at the Chiefs were the key factors in his decision.
"My family is in Putaruru and with my parents in their 80s, this is an opportunity to spend more time with them.
"I also have two sons in Auckland and Christchurch, so being a short distance from them was very important. I am loving my role at the chiefs and am excited by the future here. The fact that I also love the All Blacks and New Zealand rugby were highly significant in my decision. Steve Tew and the NZRU have been very loyal to me over the years and repaying that support was also important to me.''
"I totally respect the way the [England] RFU have given me time to weigh up my future and would like to wish Stuart Lancaster all the best. They have a good man in Stuart, a coach who has a very clear vision and will create a powerful team.''
Smith, who stepped down as All Blacks assistant coach in the aftermath of the World Cup victory, has been a massive success at the Chiefs in his role as assistant alongside head coach Dave Rennie.
Smith had spoken of having to weigh up leaving his elderly parents in Putaruru and whether or not he could coach against the All Blacks. Chiefs chief executive Gary Dawson said he was '' thrilled'' Smith had decided to stay.
"It is fantastic news, not only for the Chiefs but for New Zealand rugby as well.''
Smith was an assistant coach of last year's Rugby World Cup-winning All Blacks team, and also coached the Crusaders to the Super 12 title in 1998 with Peter Sloane and again in 1999 with Steve Hansen.
NZRU chief executive Steve Tew had said the NZRU would do all it could to keep Smith in New Zealand.
- HERALD ONLINE