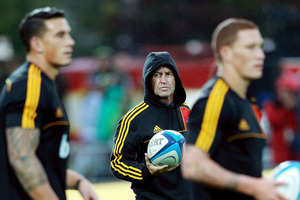 NZRU needs to show how much they want this stalwart of super rugby and the All Blacks to stay.
Here's the one wrinkle about Wayne Smith joining England's coaching staff that can't be ironed out with a shot of steam and a hot press - it will hurt the All Blacks.
Not immediately and perhaps not profoundly, but when you lose that much rugby intelligence and experience - intellectual property is what they like to call it these days - to one of two or three teams best positioned to topple New Zealand from the top of the rugby tree, it must have an effect.
Even given the cold, hard realities of professional rugby, which is really just another phrase for cold, hard cash, it is bending the brain of Smith who has indicated he will make a decision in the next fortnight as to whether to join Stuart Lancaster's team. The two broke bread in South Africa and Smith came away impressed.
Yesterday Chiefs' management were reluctant to guess as to whether they felt they had a chance of retaining Smith for the second of his two-year contract, though one did mention it was now in the hands of the NZRU to see how much they want him to stay.
"Having put the last eight years of my life into coaching the All Blacks and trying to win the World Cup, I'm going to have to search inside myself to see whether I could coach a team against them," Smith said.
No one took more pride in each of the 17 test caps he earned as the former first five-eighth; no one worked harder to ensure the All Blacks broke a painful 24-year World Cup drought than Smith.
Smith plotting and strategising to beat the team he loves is as difficult to stomach as Keith Richards leaving the Rolling Stones to sing harmonies with One Direction.
There's always naivety involved when you try to attach the emotion to business decisions, but it's what the All Blacks have been doing for years. Graham Henry, Smith and Steve Hansen made a big play about the legacy of the jersey, the fact you never owned it but guarded it.
In that way they successfully tugged on the heartstrings of many who were no doubt considering far more lucrative opportunities offshore.
That's not to say that Smith would be guilty of hypocrisy if he left. If there's one thing that makes a country look small-minded it is misplaced nationalism.
But England ... really?
As much as he enjoys working with the Chiefs and returning to his roots, it would be hard not for it to feel like he had dropped from the penthouse to a fifth-floor room next to the elevator shaft.
Richard Kahui is urging Smith to help coach his Te Rapa club side to bolster his stipend. That levity soon gives way to an earnest appraisal of what will be lost. "If he goes to England, he'll make them better," he said.
"There's never any shortcuts, he doesn't leave anything to chance. That's probably why our defence has turned around so dramatically. He's a great man and knows how to get the best out of people.
"If he was to go somewhere like England, it would be a huge loss for the Chiefs and New Zealand rugby. It would be a worrying sign."
Smith shouldn't take it as a compliment, he should take it as a plea.