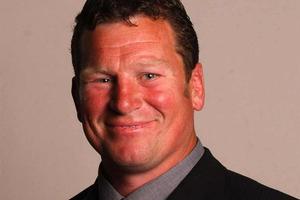 The knives and pens were poised but they had to be stayed after a good performance against the Wallabies which seemed to reinstate a bit of belief in these All Blacks.
They needed to. They obviously worked hard on the lineout and, apart from a wonky first one, they got it right and the difference was clear.
I am not saying the coaches and players are home free now - there have been too many ordinary performances in the Tri Nations for that - but it was a big improvement.
That first 20-30 minutes was a feeling out period and the turning point was when Isaia Toeava was sin-binned. That usually means automatic points to the opposition but they scored that try to Cory Jane and that took the juice out of the Wallabies.
The Australians were at their best against the Boks when they really threw caution to the winds and took them on. But they didn't do that last night and, when the All Blacks took control up front, the stuffing seemed to go out of the Wallabies and they rarely threatend to score a try.
Richie McCaw had a wry smile of satisfaction on his face and he deserved to. He was my player of the night and he took the ball up well and pressured the Aussies and then, in the last quarter, his turnovers and defence were superb when they were pressing.
I heard an Australian commentator saying that McCaw doesn't wield the same sort of influence over a game that he used to. Hooey. He was the most influential player in this match by a long chalk.
After criticising him regularly, I have to take my hat off to Joe Rokocoko, who looked for work all night and who played almost flawlessly. He may not beat the first tackle like he used to but if he looks for work and is as efficient as that, he'll stay in the side, I think.
The other notable return was the Ma'a Nonu-Isaia Toeava midfield combination, which showed how mad-headed the selectors were with their 10-12-13 choice last weekend.
As for Neemia Tialata, he didn't even play 50 minutes before being subbed off but I have to say he did take a bit of sting out of the Australian front row.
This was a good response by the All Blacks but let's not lose sight of the fact that the Boks are the benchmark right now.